Environmental Art: Synergy of Utility and Aestheticism
On this environment day, we bring forth the intriguing saga of environmental art and the artists that help propagate its arena.
Environmental art is a superordinate phrase that refers to a vast body of art forms that center their intrinsic motivation towards environment. Originating from the paleolithic imitations of nature, environmental art has transmogrified its caricature completely. Environmental art as an artistic trend, per se, came in vogue during the 1960s and 1970s. It is no longer just the "idola" of nature but comes with a wide perception. Environmental artists propagate social, moral, ecological utility through their art but are not limited to these visions either. They serve to depict the intimacy (while maintaining the autotelic nature of their art) between components of biosphere and Humans.
The contemporary artists are conscious of maintaining the aesthetic affront of their art along with its utilitarian purpose of creating awareness about various environmental issues. Nature in these art works is treated as mutually inclusive and slightly derives its characteristics from the Gaia theory proposed by James Lovelock as being sometimes "self-regulating", like a being of flesh and blood. If the rapacious nature of human beings towards environment is an inclusive theme of these artists, then the destructibility of Nature is also depicted with existential turnabouts. In any case the synergistic interaction between environment and its component and human and its artificial surrounding is prominently present. So, to say, environmental art also is a representation of a tripartite: man, society and nature. The eco-centric approach of these artists, where anthropomorphism is present on the peripheric boundaries, makes them an ideal environmental activist too.
Talking about the aesthetic qualities of environmental art, it brings into existence the aural, visual and spatial sensations in the form of art. The somatic is associated, on a connotative level, to the incorporeal.
This World Environment Day, let's have a brief look at some amazing environmental artists.
Arunkumar HG
Inspired by the rhythmic philosophy of environment and motivated to unravel the saga of nature Arunkumar HG, focuses on creating awareness towards the ecological welfare and the sustainable ways of utilizing the perks of nature through his art and even sustainable ways of creating art itself by biodegradable materials. He even promotes the ideology of art derived out of the mediums present in the environment.
Manav Gupta
Capturing the minute and vast elements of environment in his art installations and verses, Manav, promotes the "Arth" (a portmanteau for art for earth) movement. During the project "Arth" he transformed pottery into large avant garde contemporary art sculptures and installations to raise consciousness on environment and bring a change among people. His art installations captures what memory can not behold and poetry claws that memory with the interior flux of mind. Such is the nature of his art.
Harsha Durugadda
Awarded with the Biafarin award and Rio Tinto Sculpture award among others, the well applauded sculptor, Harsha Durugadda, believes in embedding symbolic meanings in his sculptures. The aesthetic sculptures of Durugadda behold the onlooker with the metaphysical tension in their core.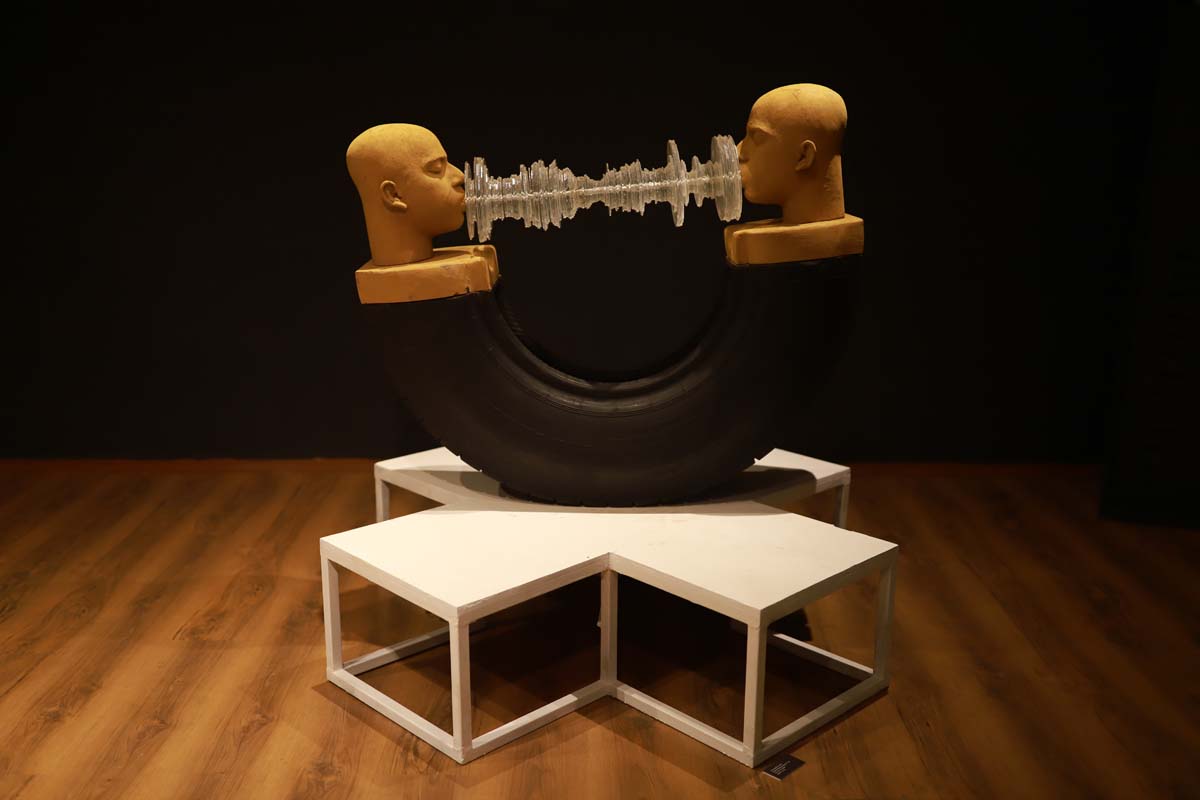 Rajyashri Goody
The diversity of mediums is a characteristic idiosyncrasy of Rajyashri Goody's work. Apart from her rich body of work, she has been a part of a climate justice event held at Foreign Exchange at La Générale, Paris.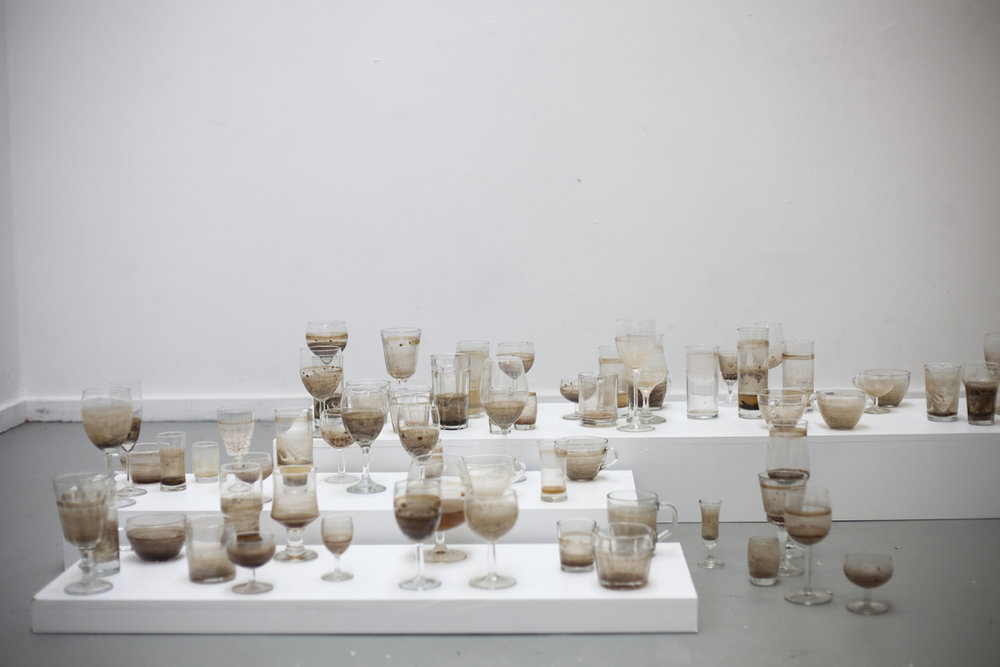 Art isn't just for the revival of the sense of what we feel is beautiful, art is also a revival of what is necessary for the society, in this case an environmental awareness.
Harshita Gakkhar: Framing Your Furry Friends In Watercolours
Growing up without a pet and surrounded by art, Harshita bases her portraits on the personal bond shared by the pet and the parent.
The happiness pets bring us cannot be completely captured in words. But, Harshita is doing exactly that with her real-life watercolour paintings. You cannot scroll through her Instagram account, in which she shares her pet portraits, without a smile on your face. So, we can imagine the contentment she gives to the pet parents with her portraits.
Harshita has had an interest in art since her childhood days. Coming from a family where her mother, aunt and other relatives took an interest in art and crafts, she has always been surrounded by art. She had a natural inclination towards art as she could form an instant bond with it. She took art classes in school and also took part in art-related contests and activities during her schooling in Step By Step High School in Jaipur. She was also very keen on exploring and experimenting various fields in art ranging from glass painting to wood painting to mandala art.
Her decision to choose her path in painting pet portraits came as a result of this quest for experimentation she had since her childhood. While seeking to do something that she has not tried during her earlier days, she picked up water colouring, which she found challenging. She notes how it is difficult to have control over watercolours unlike acrylic and oils, with which it is easier to rectify mistakes. She remembers how she had to start from the basics of watercolour. Beginning her watercolour journey from landscape paintings, she gradually moved on to portraits.
What made her pick pets to make portraits of was the compassion she had for animals. She notes that the eyes of cats and dogs "speak a lot" and they appear "soulful" to her. Making pet portraits was not an easy job and Gakkhar admits to having failed many times during the time she started it. But what kept her committed to it was the happiness her paintings brought to people.
She recalls the first time she made a pet portrait for a friend who lost a few-month-old puppy. The sudden demise had caused a lot of sorrow to the family when Gakkhar decided to immortalise the puppy in her canvas. The delight with which she recalls the joy her friend experienced upon receiving the portrait speaks volumes about the self-contentment she receives from making the paintings. The cheer that her first portrait brought to others made her realize that a lot of people could connect and associate with her art. The personal connection that she could bring out with her pet portraits was what made her enthusiastic about continuing her projects and posting them on Instagram. Putting her work out there for the world to see helped her in bringing happiness to all those who needed their beloved pets to be illustrated.
The love she has for the four-legged friends is quite evident in her paintings. But, you would be surprised to know that she did not have a pet growing up! However, she was always around the pets of her friends and family. Although she is a skilled painter of dogs, she remembers being scared of them in her childhood. Now, she says, she is happy to meet a dog and enjoys their company.
Being a self-taught artist and having had her presence established on social media with her work, she strongly believes that any skill can be acquired by anyone if they are willing to be consistent. She believes that the struggle is in being consistent, disciplined and persistent about your dreams. She remembers how she had failed innumerable times while starting. Despite being scared of failures, she practiced regularly. She admits how some of her failed paintings do not make it to social media and how she tunes her feed to display only her best work.
In an age where technology offers you platforms to display your talents in a world of budding artists, she believes it is important to stand out. She wanted to carve a niche of her own with her pet portraits and the first step she took was to create a portfolio. She picked 12 different dog breeds to paint and shared them on social media so that people could assess the quality of her works themselves. She mentions how reviews from her clients have helped her in gaining more recognition on social media. She holds reviews important as it helps in convincing potential clients and winning their trust. Genuine reviews can be achieved, Gakkhar believes, only through performance. She makes it a point to give her very best to each of her clients by putting in the same kind of effort and precision into each of her portraits. She also mentions how it would take time to build up one's name in any field, but she is ready to strive for it. She does not hide her immense joy in being featured for the first time in the September 2021 issue of Buddy Life, a major pet magazine in India. She shared how great it felt to be featured in the magazine along with other industry experts while talking about this celebrity moment of hers.
For a person who hasn't had a pet growing up, it is indeed surprising how Harshita manages to bring to life the pet-parent pond in her canvas. She shares with us how the clients who reach out to her gushes about their pets in a manner one would talk about their child or a family member. She builds on this attachment that is shared by the pet and the parent and attempts to bring this connection alive through her portraits. She tries to portray the pets who have passed away from the photos shared by the clients and how they envision their pets to be remembered forever. She tries to render a heart-warming image, according to the client's wish, of their pets either sitting in a garden, or with their favourite toy, or surrounded by butterflies. She finds her reward in imprinting the memories of their pets permanently with colours on her portraits. She finds this venture challenging and at the same time mentions how she derives happiness from it. What she learned through this journey is that each portrait and pet is different. Though there are several dogs of the same breed, she realized that each of them has its likes, quirks and traits. In her portraits, Harshita attempts to evoke this uniqueness of each pet.
Her Advice!
To anyone seeking to follow their passion in art, Harshita's advice is to explore different types of mediums and subjects. She suggests working on something that one could personally connect with and brings happiness. She urges anyone who wants to follow their path of passion to give it 100% and not give up. Another factor she emphasizes is consistency. She believes that the key to growth in any field is consistent practice.
She is all set with some new projects for the coming months. She is planning to launch her first merchandise of the year – the 2022 calendar with live cat and dog illustrations – by November, apart from the pet portraits.
Harshita Gakkhar stands out among many other artists through her consistent efforts and the competency that she has developed all through her art journey. With her talent, her willingness to work hard and her optimism, her dream of having people hang her portraits in their homes all around the world is not distant from her!