Her Story To Tell: A look At The Life and Work of Toru Dutt
Look back at the life of Toru Dutt, a founding figure in Indo-Anglian Literature, who carved a path for the future writers of India.
Stories of women hold immense significance, even more so in a socio-cultural atmosphere such as ours. They not only serve as a reminder of the importance of social and gender equality but also prompt a discussion on the miles we have left to travel, as a collective, in terms of achieving true social emancipation. The tale of Toru Dutt is one such story, one built on the back of an individual who created a lasting legacy in the short time she had. A pioneering figure in the field of Indo-Anglian literature, Dutt's works were the one of the first literary works to pave the way for the future generations of Indian writers. Touching on themes of loneliness, nostalgia and patriotism, Dutt's literary ideas, according to literary critic Edmund Gosse, borrowed the ethics of traditional tales while, simultaneously, her own education and exposure to Western ideals and values helped her make these tales relevant for posterity.
Born in 1856, in Calcutta, to an aristocratic Bengali family that converted to Christianity, Toru Dutt was a product of the socio-cultural renaissance of mid-nineteenth century Bengal. The Dutts were among the first families to be influenced by the missionary presence in British India, becoming a part of the rising class of educated, upper caste members of society, with liberal outlooks and a proclivity towards literary accomplishments. Dutt was the youngest of three siblings, after her sister, Aru, and brother, Abju. The three Dutt children had an idyllic childhood, being homeschooled by private tutors who introduced them to the expansive literary scene that existed outside their environment.
It was only after the tragic death of her brother that the Dutt family, deeming a change in residence to be healthy, relocated to Europe, spending a year in France and another three in England. The remaining Dutt siblings, Aru and Toru, spent that time being more intimately acquainted with the French language and the higher intellectual opportunities that existed in Britain. Dutt, at the time, attended lectures at Cambridge, which proved to be seminal, where she met and befriended Mary E. Martin, a friend she continued to correspond with upon her return to India later.
When she did finally return to India, Dutt, just 17 then, found it challenging to assimilate back into the cultural atmosphere that existed, at the time, in the country. Due to her own exposure to the progressive ideals and values that existed outside India, Dutt found the social climate in the country to be intensely conservative. Her sister's eventual demise in 1874, further, compounded the alienation that she felt.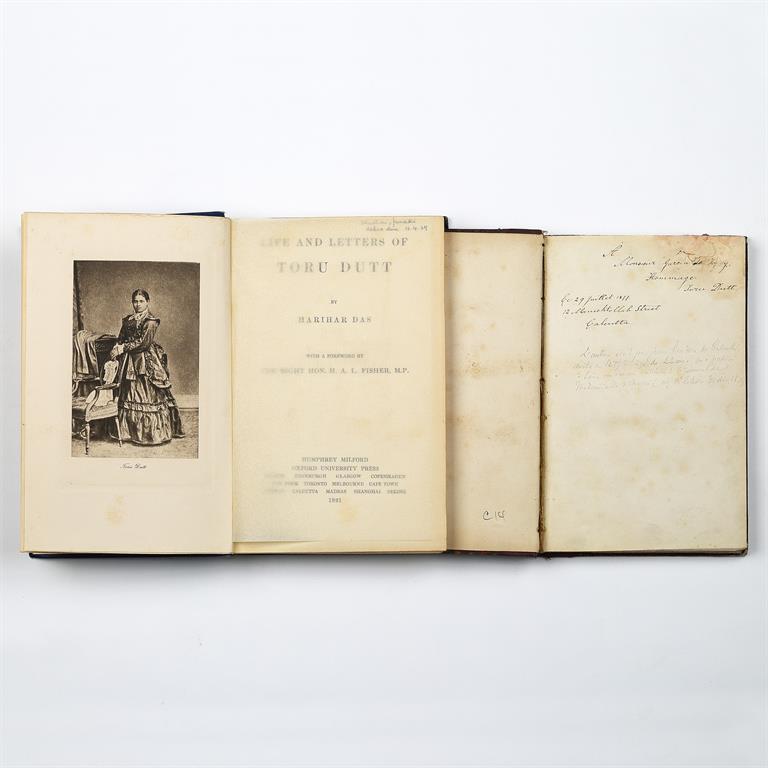 It was in reading and the creation of literary works that Dutt sought refuge. In the next three years that followed her sister's death, Dutt produced an impressive collection of literary works. Her first published work was a translation of French poetry, with her critical notes on each piece, of about 165 poems by French poets. The publication was, aptly, titled 'A Sheaf Gleaned in French Fields' and grew to garner immense recognition and praise. Besides that, Dutt, along with her sister, had been a constant contributor to periodicals, where she submitted translated works, her own original poetry and critical essays.
It was, however, an unfortunate turn of events that Dutt did not live to see the impact her work would go on to have. She died at the age of 21, in 1877, just a year before 'A Sheaf Gleaned in French Fields' went on to receive a second edition publication. Still, after her death, Dutt's father found her manuscripts, containing numerous literary works, and had them published posthumously.
Dutt's only English novel 'Bianca', though left incomplete, was published in serial editions in the Bengal Magazine in 1878. Moverover, her french novel, 'Le Journal de Mademoiselle d'Arvers' (The Diary of Mademoiselle D'Arvers), went on to be posthumously published in France in 1879. Additionally, a collection of her original poetry and translated work, titled 'Ancient Ballads and Legends of Hindustan, went on to be published in London in 1882, with an introductory memoir on her life by Edmund Gosse.
Toru Dutt's achievements cannot be just construed as exemplary in the context of her being a woman in nineteenth century India. No. They are exemplary based solely on the impact her literary work had and the manner in which her legacy laid the foundational path for the future writers of India. She was, for all intents and purposes, a founding mother of Indian English Literature.
The Saga of a Music Maestro: Pandit Tulsidas Borkar
The life journey of a Marathi music composer and harmonium maestro, Pt Tulsidas Borkar. He is known for his compositions in Marathi theatres.
It is said that a 'legend' is born out of passion, determination and the miseries of life. To be one among thousands requires the will equivalent to the mountains. Pt Tulsidas Borkar is one such legend, who was shaped by dedication, adamance to fulfill the dreams and his incomparable genius for music.
This Thursday, introducing the journey of Padmashri Pt Tulsidas Borkar as a legendary harmonium and mouth organ maestro and equally wonderful Marathi music composer on his 87th birth anniversary.
His Journey!
The revered 'guru', Pt Tulsidas, was born on November 18th, 1934 in a small village of Goa, Bori. He then moved to Mumbai with his parents and spent a few years enacting minor roles in theatres. His inclination towards music and harmonium began from an early age. And with his mother being his first teacher, harmonium soon turned into his favorite instrument. He was trained in classical music and harmonium under Pt Vishnu Pant Vasht and Pt Chhota Gandharva in Pune.
On an astonishing note, he was only 11 when he started to accompany many renowned singers, composers and instrumentalists! He started his career as an accompanist in Marathi musical theatre at a remarkably young age and accompanied artists like Pt Ram Marathe, Pt Bhimsen Joshi, Pt Kumar Gandharva, Pt Mallikarjun Mansur and many more renowned names of the Marathi musical theatres. Borkar became a famous image in the Marathi theatres, directing music in Marathi Sangeet Natak.
He was not only a harmonium accompanist but also played the mouth organ, equally wonderful as he was with harmonium. Starting from a young age, his unbelievable skills brought him fame in Marathi musical theatres. Borkar also authored a book titled "Samvadini Sadhana", which is a guide and motivation for young students and music lovers to date.
Achievements and Awards
Pt Tulsidas was honored innumerable times with prestigious national awards in music, the highest being the Padma Shri award. He received the Padma Shri award in 2016 and the Sangeet Natak Akademi Award in 2005. Not just these, his list of awards seems never-ending. He was also honoured with the Bal Gandharva Gaurav Puraskar at the age of 22. His comprehendible contributions in Marathi theatres and Marathi Sangeet Natak won him the Govindrao Tembe Sangatkar Puraskar, Pt Dinanath Mangeshkar and many more awards to name.
Pt Tulsidas passed away on 29th September 2018, suffering from tuberculosis, leaving the Marathi theatres in the grief of losing a legendary accompanist and composer. He was not only an artist but a revered teacher. Many of his disciples are carrying forward his teachings and techniques to the new generation even today. The journey of Pt Borkar is, indeed, a saga that needs to be sung to generations to come. It is the journey that has and will fill the young learners and artists to dream and believe in themselves.