Painting A World Of Memories: Soma Chakraborty Debnath
Meet Soma Chakraborty Debnath, an incredibly talented Madhubani artist who is trying to push the art form to even greater heights.
As we begin our conversation, I am instantly struck by the love and passion she holds for the art form. Soma Chakraborty Debnath is an artist who specializes in Madhubani art. Well, 'specialize' is just another way of conveying the fact that she has been producing incredibly beautiful creative pieces for quite some time now. Currently residing in the UK, Soma, as an artist, wishes, now, to familiarise others with the rich and stunning cultural art history of her country.
Hailing from Jalpaiguri, Soma recalls her home fondly, reminiscing on the lush tea gardens that surround the city, before she dives into how she actually chose to get into Madhubani as an art form. Though she had been painting almost all her life, she never actually thought about dedicating herself to art as a serious pursuit. Around the time of her son's birth, roughly around five years ago, Soma wished to do something that helped her unwind from all the new responsibilities that came with being a parent. She began to paint once again. In the beginning, it was for a few spare minutes, perhaps half an hour at most. When she was looking up creative pieces and researching varying art forms that existed, she came across Madhubani art. Feeling an instant draw towards it, she soon began to push herself to practice it more. Soon enough, she began to share her work with a few close friends. It wasn't long before the people she showed it to wanted to buy her artwork. Soma, ever the humble artist, chalked it up to her friends being supportive of her newfound passion. What she didn't realise, at the time, was that she was already a phenomenal artist in her own right.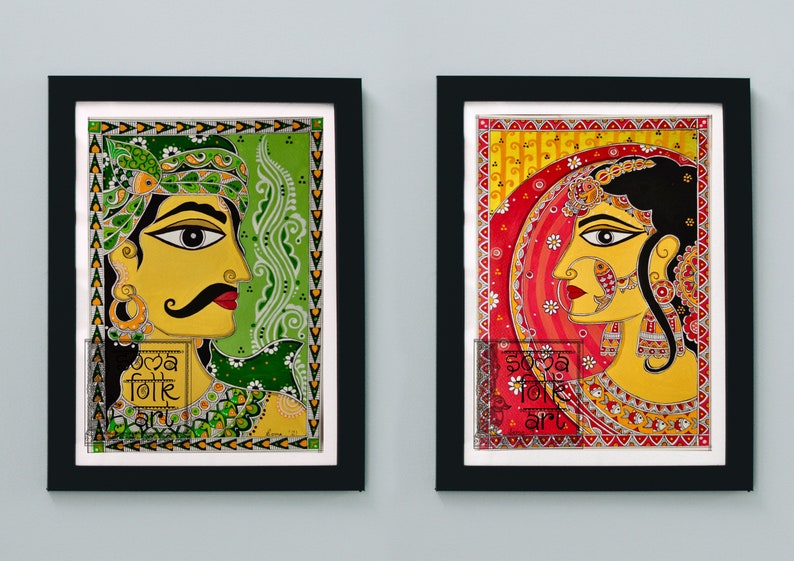 When she did realise the value in what she was creating, Soma began to post her artwork online. Offers to purchase her incredible pieces came in once again. This time, however, these offers were from complete strangers. It was at this point, as she says, that she gained more confidence and decided to take things a little more seriously.
It is important to note, before we go any further, that Soma's journey, as an artist practicing Madhubani as an art form, is one of self-education. In the conversation, she reveals how she really had no familiarity with other more established artists in the form. Everything she did and learnt, she did on her own. Of course, she did look up to the works of artists that she came across and felt inspired by. Celebrated artists, such as Bharti Dayal and Santosh Kumar Jha, all had a major influence on Soma's foundations as a Madhubani artist. In fact, she credits the works of Santosh Kumar Jha as being a vital source of inspiration and for helping her come into her own style as an artist. As we talk more on the topic, I learn that, now, she has come across multiple people who practice folk art forms and, in fact, cherishes their knowledge and experiences as artists and, perhaps more importantly, peers.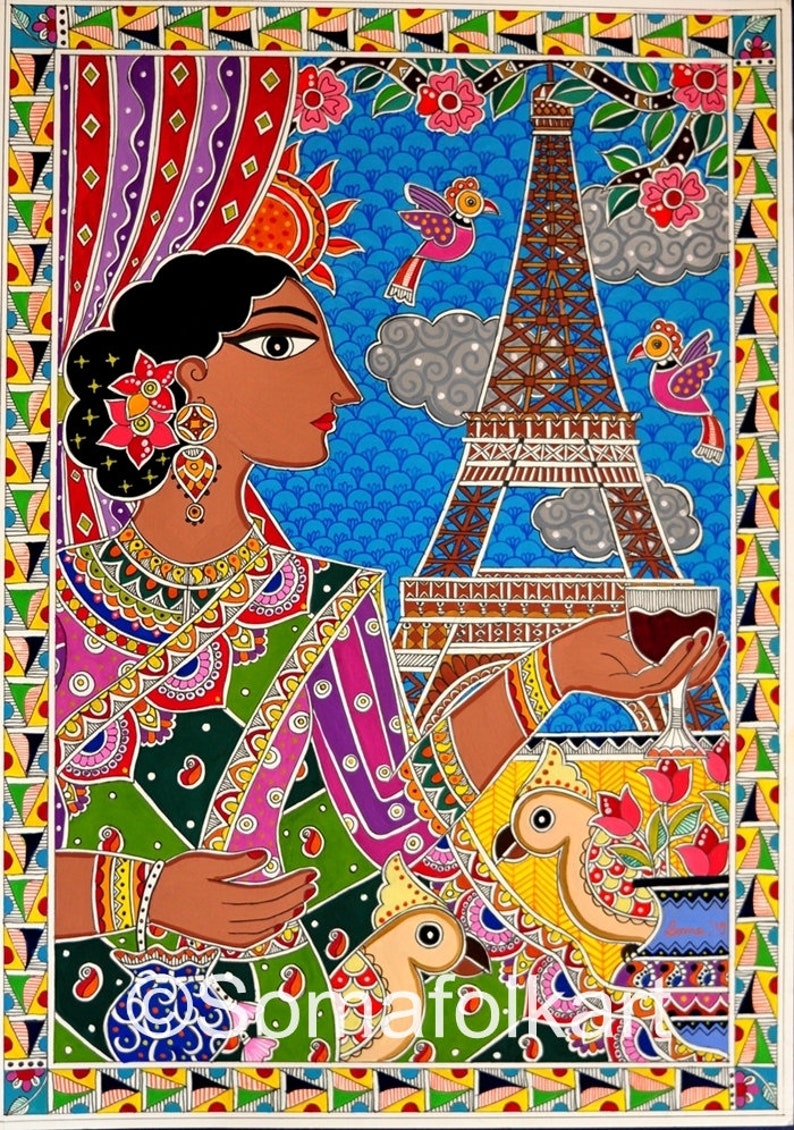 Now, as I write this, Soma has a considerable following on her social media platforms, a following that comes from the appreciation and admiration that people have for her work. Of course, it is easier now to go online and look at her artwork. Everything is now more readily accessible to us. However, in the context of art and artists, exhibitions are crucial. Not just in terms of showcasing your work but also in regard to gaining exposure as an artist. When she first began, Soma admits being a little hesitant, unsure of whether she would find an audience in the UK that her work would resonate with. There was also the fact that she and her husband had just become new parents at the time. Still, she found time to participate in the local art exhibitions. As she explains, in the beginning, it was all baby steps for her.
The response that she got at those exhibitions made her understand geographical boundaries don't really play a part when it comes to appreciating art. Just recently, Soma was runner-up in the prestigious Rugby Open exhibition which takes place in the Rugby Museum and Art Gallery. The chance to just showcase a part of her country's cultural history is something that, Soma says, is an honour in itself. And I am glad she brought up this thread.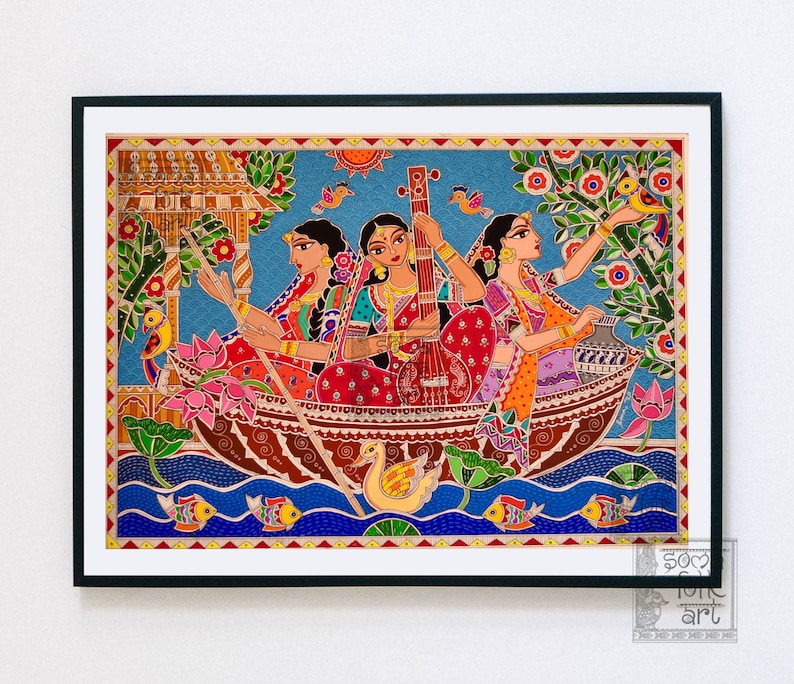 As a member of the newer generation of artists practicing Madhubani art, Soma feels it is crucial that she, as an artist, respects the cultural traditions of the art form but also tries to introduce something new and socially relevant to her audience. As we discuss this further, she talks about one of her paintings that had its theme based on same-sex marriage. Another painting, based on her own memories of her father, depicts a father braiding his daughter's hair. For Soma, as an artist and as an individual, art serves as the perfect medium to not only capture her own personal experiences but also deliver a relevant socio-cultural message that helps us move further, as a collective.
Now, Soma Chakraborty Debnath wishes to use her art to educate others who are unfamiliar with the cultural history of her country. Even more importantly, she wishes, through Madhubani art, to relay the fact that cultural traditions can be used to further collective social progress and not just serve as a repressive element. And, that, in itself, is an admirable goal to aspire to.
Of Creative Instincts and Aesthetics: Diksha Rai's Art and Career
Artist-Painter Diksha Rai shares the evolution of her hobby into a career option and all the things she has learned about her art during this journey.
As soon as we began talking, I had already told Diksha Rai how beautiful I found her artworks to be. She laughed a little as she said a sweet thank you and our conversation moved ahead. Her Instagram feed, especially for an amateur like me, is gorgeous to look at, a wonderful curation of colours, and Diksha's talent and skills. It was majorly why, when she later revealed that she is a self-taught artist and has been doing art regularly for only a year now, I was taken by surprise. Diksha Rai, a young painter hailing from Delhi, has her hands flowing with creativity, and a mind that is bent on learning and growing into a better version of herself as an artist. And with her natural talent for painting plus her immense love for it, better things will always be around the horizon for her to reach!
Having finished her masters in the middle of the pandemic in 2020, Diksha tells me she was just waiting for life to happen. With the possibility of finding and working a job being very low, she opened an art page just to pass her time and indulge her hobby. As a child she used to be an art fanatic, drawing a lot as that one kid who was always found in the fine arts room. Somewhere recalling those memories, she began painting and posting on her page.
Little did she know or expect it to grow into a popular space, let alone also become a way for her to find work for commission. Her page started gaining a lot of engagement, and soon she started receiving requests for commissioned work. Started in April 2020, @artcartbydiksha now has more than 60k following. Her previous plans of finding a job in corporate now on an almost permanent hold, Diksha gleefully admits that she feels like maybe she has found her calling. Art is what she should do.
However, for now, she has decided to just go with the flow. While she always had a creative instinct, she could never consider art as a viable option for her career, a thing to earn a living. Now with changed circumstances, even as she is far happier with them, she knows she has a lot of things left to figure out. Exploring the field, and navigating the many perks of social media, she has decided to experience it all- taking in whatever benefits come her way as their parcel.
Having never professionally learnt the technicalities of the craft, Diksha began by imitating different works and setting them according to her own style. Like anyone's go-to aesthetic inspiration, Pinterest has been a big help to her. Now, she says, she can't look at things without visualising how she will make their colour or how she will put them on paper. Inspiration to draw looms all around her, and Diksha has learnt to grab all that she can. In fact, she serves with a cute analogy to describe what art is to her now. It's how you brush your teeth everyday, that is how she looks at her art too. A regularity, necessity, and a habit.
Speaking of her creative process, she sums it up in one word. It is very random, she says. The world is full of ideas to take away from and there's always something new that pops up to strike her fancy. In this process, the kind of artworks she does find a lot of diversity, her Instagram feed being a testimony. Sometimes she'd make landscapes, at others a sunset, or a food illustration, and even a cartoon. And with all the room that she has to experiment, and the time she needs to figure her style out, this approach doesn't seem bad at all. An eclectic mix of all things pretty, in fact.
Diksha considers creative blocks just a part and parcel of being an artist. Like anything else, it too ends. Besides, for most artists, the good parts of being a creator both compensate and outweigh the little obstacles. For Diksha, it is watching other people get motivated by her work. She never thought she could inspire anyone, but seeing people get influenced to paint and incorporate art in their life by looking at her work is a special feeling of content. It keeps her going, and gives her confidence and the motivation to produce more and better work. 
And amidst all these things, she finds her own art to be a dynamic process. Diksha knows it will be continuous and is never going to stop. She says she will never stop finding inspiration and new ideas, painting is not going to take a pause in her life. Because ultimately, it is growth she is striving for. Even now, her criteria for judging her work are by the standards of what she has created previously. Following this approach helps, for instead of being intimidated by other artists and their works, she gets a clear view of how much better her work has gotten compared to before- an indication of her improvement born in practice.
Following on this trail, her advice to people like her, beginning and figuring out a path in the field of art, is to remember that creativity is not a competition. Once you settle that in, only then you will love what you do. We are sitting on a pool of talent and you'll find everyone being good at something. If you get daunted by that, you'll never give yourself a chance to find and nourish your creative side. Identifying that you do have an instinct for something and owning it is the first step, she says. And Diksha Rai has come a long way from taking that first step. Now, creating something of her own, and carving a journey that is all her alone, Diksha as @artcartbydiksha has many more places to go!