To Drinking Coffee And Travelling The World: Pooja Singh
Meet Pooja Singh, a travel blogger who spends her time watching the sun rise from a different horizon each day.
Her Instagram page is a wildly colourful curated collection of pictures. The only thing tying them together is her ability to make you see a world that lies beyond the already travelled path. Pooja Singh has been travelling for quite some time but it is only recently that she has dedicated herself to becoming a travel blogger and, if I may add, quite successfully so. Her story is one of pure wanderlust, a strong desire to see what lies beyond the things she knows.
Her Journey!
Born in Haryana and raised all over the country, Singh has been travelling ever since she was a child. Her father being in the Indian Army meant that, as a family, they had to relocate quite often. And, while that may be difficult for some, Singh truly enjoyed it. You see, the love for travelling is something that Singh inherited from her parents. As she puts it, once you really start travelling, it's quite difficult to shake that urge to go to new places.
Her decision to become a travel blogger was not something that she had anticipated however. She loved the whole experience of travelling, visiting new places and experiencing new cultures, of course, however, at the beginning of it all, Singh followed a more conventional trajectory. Once she had completed her Master's in Business Administration, Singh went on to work for four years in the corporate sector.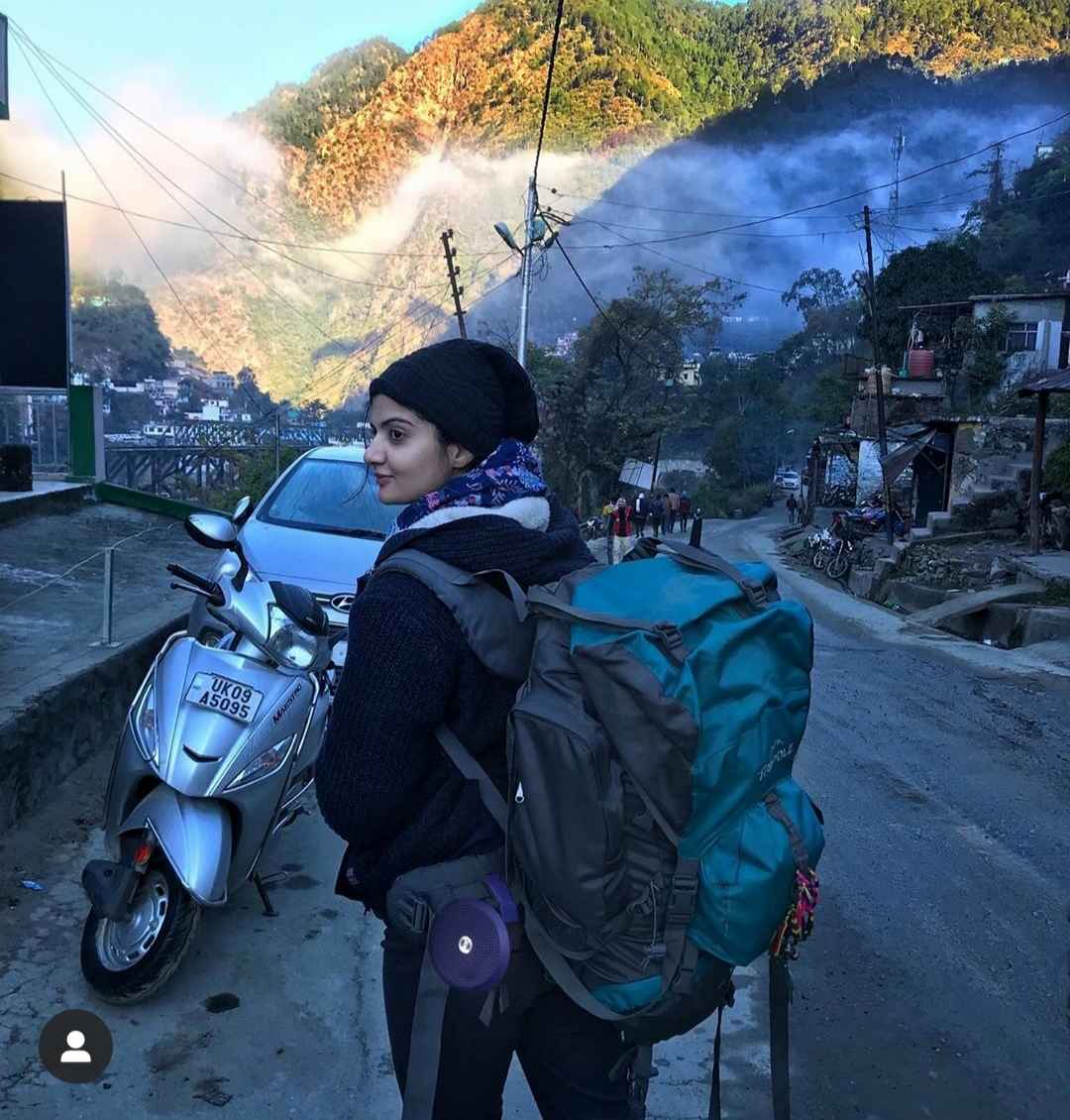 Even back then, Singh was jumping at every opportunity to travel. Company leaves and holidays were spread thin. Consequently, Singh used the weekends to travel. In fact, she recalls that she would travel at least four to five times a month even then, squeezing every bit of the free time she got over the weekends to make plans and visit the places she wanted. All of this, however, started back in May of 2018. That is the one trip that started the journey she is on today.
Of course, I stated earlier that Singh had been travelling ever since she was a child. However, those trips were always with family. Her trip to Goa in May of 2018 was the first time she ever travelled alone. She had her reservations, obviously. It's never quite a reassuring experience to travel alone for the first time. But the more she did it, the more she realized that this was something that she was born to do. The only thing that truly tied her down from using as much of her time to make travel arrangements and visit new places was her professional commitments. Soon enough, after working for over four years in Mumbai, Singh quit her job in December of 2020 and decided to dedicate herself completely to travelling.
Since then, for the past five months, Singh has had the privilege of constantly being on the move. With a journey that started with Uttarakhand in January, Singh has managed to cover Andhra Pradesh, Telangana, the Andaman & Nicobar Islands, Himachal Pradesh, Kashmir and Goa. At the moment, she is based in Manali. That is an extensive list of places to cover in that period of time, if you ask me. However, to truly understand the manner in which she has managed to visit the number of places she has, you need to understand the way in which she travels.
You see, Singh is not an extensive planner when it comes to deciding to travel to a destination. For her, the journey through the places is as important as the place itself. Her preference to travel on her own leaves her the space to choose the destination on her own, while also making any impromptu changes in travel plans. Most importantly, as Singh puts it, she likes to travel slowly, soaking up as much of the local lifestyle and culture of the place she is visiting. Perhaps, that is one of the reasons why she is a little hesitant to actually pinpoint her favourite destination. Each destination has something new to offer, something that leads to a new memory. After all, each memory is precious in its own way. What she is willing to point out, however, is one of her more memorable trips.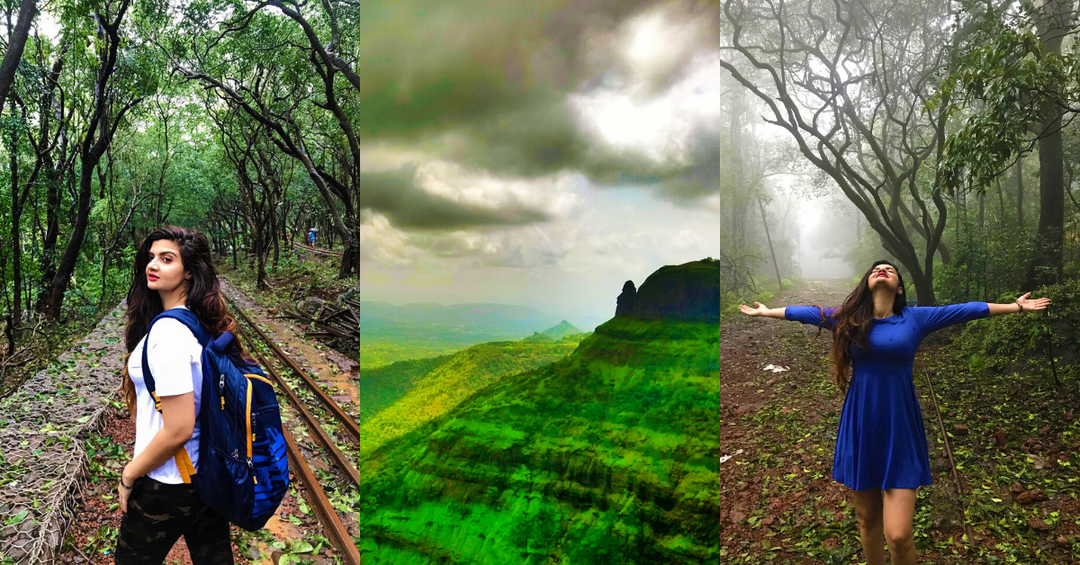 Her first solo trip to Andhra Pradesh was a little intimidating for Singh. At the time, she had planned to visit a forested area where there would be little in the way of cell phone network coverage. To add to that, there was also the issue of a language barrier. Once she actually got there, however, Singh mingled with the locals and found herself at ease. She remembers her time spent there being filled with multiple adventurous activities. That trip, more than anything, cemented the idea that a journey is something that may seem scary at first, but eventually might just turn out to be a cherished memory. And, of course, there is always Goa. Goa is a place that will always be close to Singh, based solely on the fact that it is the place where it all began for her.
Travel and Travel Blogging is not something that Singh takes as a mere experience. It is not just a simple process of going to a place and showcasing it. For Pooja Singh, travelling is a lot more about breaking out of an established routine. It is more about broadening your own experiences, making new memories and, perhaps, most importantly, learning new things. After all, a lot of good things fall beyond the horizon that lies unexplored.
From 'Streets of Banaras' to 'Mohbhang': Parul Mishra's long, loving fling with Music
With a trail of experiences behind her lovely vocals and successful projects, singer Parul Mishra offers glimpses of her life in the music industry.
There is a recognisable humbleness in the way that she talks, owed perhaps to the eternal love she harbours for singing. Parul Mishra, is a professional singer who has happily devoted all her life to music. It was only a few months back that the song from TVF's Aspirants, Mohbhang, to which Parul has lent her beautiful vocals, was making rounds and receiving a lot of admiration all over. With a lot of valuable experiences and insight following her stead, she has walked a long way to be where she is now. And the more I talked to her the more I realised that her intense respect and dedication for her profession is only going to take her to more brilliant heights! 
Belonging from a small town in Uttar Pradesh, Parul was just a child when she began her training in the field. Although no one in her family has a background in music, the immediate recognition of her talent in her early years garnered a lot of support from her family. Under training till the end of her schooling, on the advice of her Guru, she participated in many competitions held at the state and national levels. While she had the backing of her family throughout, it was after she moved to Delhi that she found the responsibility of carving her own path that would later lead her to Mumbai.
It was while she was pursuing her graduation in music in Delhi that a chance happening led her to audition for a music contest, the winner of which was to share a stage with A.R. Rahman. She tells me how she had auditioned for it without giving much thought. It was only after she made it to the top ten that she gave the whole scene some serious thought. And after making the top five contestants, the unexpected greeted her when she was chosen by Rahman himself as the winner after singing at his studio in Chennai. That was 17th November 2008 for Parul, a date special to her for all the good things it brought forth. It is a memory she will cherish forever, she goes on to add gleefully.
Parul performed with Rahman later in Delhi, and also shared the stage with many singers she had always been a fan of. All of it was nothing short of a dream coming true. However, none of it had she expected to happen. Her talent only brilliantly flowed with and responded to things as they went on to happen. Next in 2009, Parul received her first break when she was asked to sing the title track of A.R. Rahman's album for a 2010 film 'Ada- A Way of Life'.
Perhaps this is where Parul's attraction to be a part of Bollywood and work as a playback singer began. She still had a long way to go with her studies, especially since her parents hoped she would continue with them to later find a government job. But living in Delhi, Parul's heart was stuck in the city of Mumbai. And before she lost all her courage to chase her dream, she decided to move in 2013. Having previously made many visits to the city, owing to her being part of many reality shows like Sa re ga ma pa, she had not just made friends with Bombay but also earned the confidence that she could survive living there alone. And so she did, throughout the years finding many opportunities to work on different projects.
Since she is trained in classical music, Parul had wanted to find a way of making the genre more accessible to a newer audience. It was with this thought that she released her own album last year, a fruitful and lovely endeavour called the 'Streets of Banaras'. The album is an interesting work of melodies, a fusion of classical ragas and traditional music with modern acoustics and rock.
Following this piece of work, Parul says she aims to create and serve her audience with the best of things, to give back for all the love she receives. About her song Mohbhang, which certainly brought her a lot of recognition and appreciation, she reveals how it wasn't even in her cards initially. Getting a call just a day before the episode's release, the song was recorded in the evening and released the very next day. Surpassing her expectations, it became a hit overnight and has truly given Parul's talent its due.
When I ask her if while working the ins and outs of this field she has ever felt demotivated to carry on with the profession, she simply says she hasn't. It is not because Parul has an overflowing jug of optimism in her hands, but because she doesn't have the time for it. She says when she didn't have as much engagement, opportunities, and recognition as she does now, her whole being was focused on creating something that people would love and appreciate. Now with many such creations in her store, her focus is on maintaining the responsibility that has increased and keeping her audience happy. And her doses of motivation rest in navigating through these milestones.
As she has understood from her own work ethics, Parul's advice to musicians starting or steering their career is this alone, that is, to be honest for your profession. Your love and hard work should be honest. And it may be that it'll take time for you to achieve what you want. But that you get nothing out of the whole journey will never be true. Because even with attempts that do not always lead to the desired results, you still have experiences to take away, and in the long run, that remains invaluable. And it applies to her too, for it is her bagful of experiences that has made the journey of Parul, as an artist, so interesting!