Watch 'What Is Your Brown Number': India's Longest Running Obsession
Vinnie Ann Bose tackles India's obsession with fair skin in a short film that is equal parts hilarious and thought provoking.
At a certain point, while you are watching the animated short film 'What Is Your Brown Number', you see a factual statement on screen. The remark revolves around the billion dollar industry of skin whitening products fuelled by our country's obsession with fairer skin. It makes you think about how something that is truly insignificant, bolstered by generational and cultural embedding, can go on to become a national concern and even keep companies not just afloat but churning billions out in profit every year. 'What Is Your Brown Number' is as much an actual conversation as it is a satirical short film, touching on one of the most ingrained cultural norms and beliefs that we carry as a nation and a collective society.
Written and conceptualized by Vinnie Ann Bose as her thesis film, from her time at the National Institute of Design, 'What Is Your Brown Number' comes out of the incubation initiative hosted by Indian animation mainstay, Studio Eeksaurus.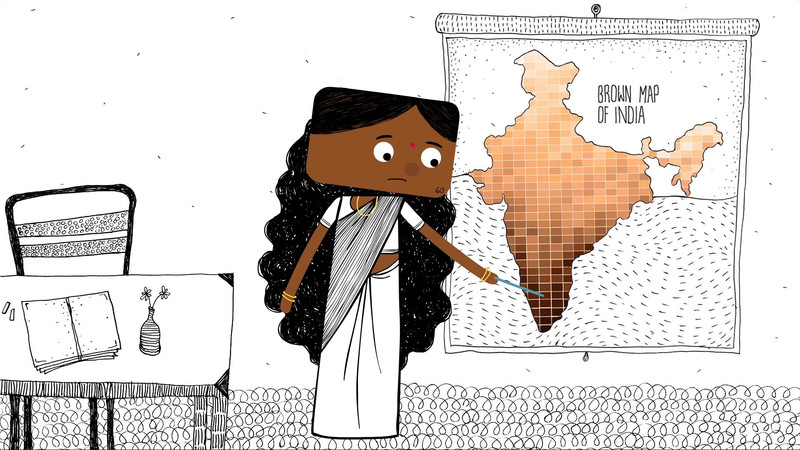 The short film follows the signature animation style that is present in some of the other films by Studio Eeksaurus. A lighter touch, carefully punctuated with vibrant imagery and clean visuals, helps the film tackle a subject that, for the longest time, has been a deeply culturally ingrained issue. There is a sense of levity that Bose and creative director, Suresh Eriyat, inject into the issue. The absurdity of the existence of a scale that measures skin tones and the dependent social hierarchy all draw from real life social perceptions and instances. And while thinking about that may seem depressing, the film aptly maneuvers itself to point to the actual invalidity of these societal judgements. Come to think of it, honestly, how awkward was it to see those advertisements on television where the brands proudly showcased that they included an actual scale, for skin tones, inside the product packaging?
That's the tone that the film follows. It points to the absurdity and the invalidity of some of the beliefs and things that we have come to normalize as a society. It's not just skin tones and the Indian obsession with fair skin, it also serves to provoke you into thinking about the myriad number of things, things that we have come to normalize, that exist within our society. It takes a lighter route, sure, gently prodding you to examine the thought on your own. However, the thought, itself, is a serious one and that, alone, is enough to start a discussion.
That Friend Beyond The Concrete Wall: Watch 'Compound'
Written by Ranjith Moukod, 'Compound' is a short film that sits as a very real slice of the times we find ourselves living in.
'Compound' will strike a real chord with a lot of you. Not because of some overly dramatic theme or some convoluted narrative twist, but because of what the short film is trying to actually convey through its story. Written by Ranjith Moukod and directed by the team at the RK Mangalore Studio, 'Compound' is a film about blossoming friendship and compassion in the times we live in.
With an ongoing pandemic and everything that follows with it, it has, for a lot of us, become relatively easier to be absorbed in our lives. And while that may not be all bad, it does stand to reason that people, all over the world, are slowly losing touch with what's around them. That comes off as a little harsh, I know. What I mean to say is that, while necessary, in an increasingly digitally engrossed world, more isolation during the pandemic, sometimes, can lead to a pronounced disinterest in the people and things we used to know.
'Compound', then, is a short film that touches on this very thread. We follow two boys, of school-going age, Saurav and Nandu. With their school shut and all the course load and the classes being taught online, Saurav and Nandu have come to find themselves at a loss and slightly nostalgic for the lives they used to know. With the two of them sharing a wall between their houses, on account of them being neighbours, Saurav and Nandu are consistently attempting to meet each other, much to the chagrin of Saurav's father.
Trivial problems, right? True. It does make you think, however. For a lot of us adults, life, as we knew it, had come to a halt. Things did move on, eventually. But what about the lives of children? What about the kids that went to school and then came home to meet their friends? What are their lives like at this moment?
Diving a little deeper, it is only when the exams loom around the corner, that the boys find themselves in a bit of a conundrum. Nandu, just recently, had his phone broken by his father. With no other way for Nandu to appear for his online exams, the boys get down to formulating a plan that lets Nandu attend his classes and appear for the exams.
Ranjith Moukod does not attempt a narrative spectacle with 'Compound'. On the contrary, Moukod opts for a slightly more grounded story about the mundane. In doing so, he manages to concoct a message for the time that we find ourselves living in. It's incredibly important that we understand the message he is trying to relay because it applies to everyone we rub shoulders with, from that lone vendor selling vegetables in your neighbourhood to that friend of yours having a tough time. It's vital to be safe but also critical to be compassionate.
Watch 'Compound'. It's a slice of our own lives in this pandemic.