Shades And Hues Of Honey: Hanifa Abdul Hameed
Hanifa Abdul Hameed, an incredibly talented illustrator, talks about journey, her work at IBM and putting her own viewpoint across.
There is, in all her illustrative work, a deliberate infusion of her own personal identity, incorporating, in itself, an aesthetic style that draws, perhaps, from her own cultural experience and knowledge. Hanifa Abdul Hameed's artwork bases itself deeply in a marriage of colours and ideas, blending, quite naturally so, in fact, vibrant hues with socio-cultural issues. For Hameed, art is as much a way of expression as it is a channel for opening discourses on the relevant conversations that we need to be having. Her own artistic journey, so far, has been one of constant evolution, where she has taken everything that has come her way in stride.
Hameed has had an interesting childhood. Born in Saudi Arabia, she lived there for 5 years before she moved to India. After a year in India, she moved to Canada, lived there for another 5 years, before finally settling in the United States. Keen on visual design ever since she was a child, Hameed recalls being drawn to art since her childhood. In 5th grade, when she saw an interview of Valentino Garavani on Oprah, she felt irresistibly drawn to the world of fashion, wishing to be a designer. However, she ended up studying graphic design at Rutgers University before going to work at IBM, immediately after her graduation, as a UX and UI Designer.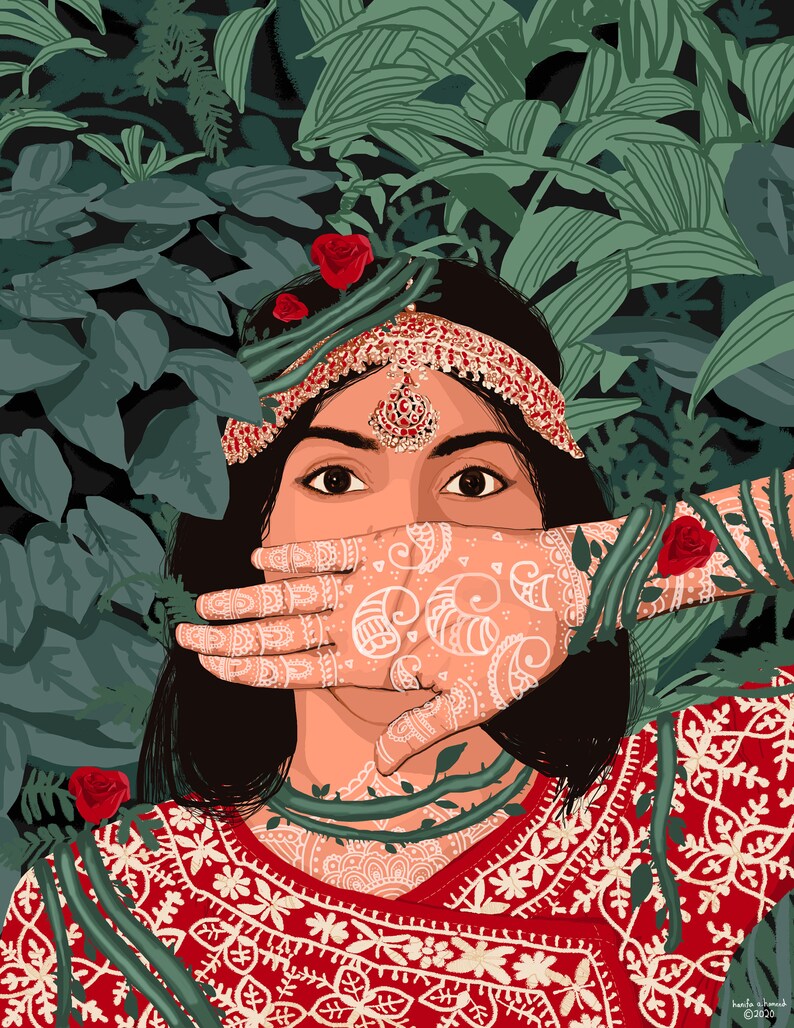 Hameed's illustrative work, then, started as a side project, a realisation of her passion for art. Initially, she worked with pencil before moving over to digital. A marriage of her love for design and illustration, Hameed, truly, enjoyed illustrating clothes. During the pandemic, she found herself with more time. That is when she truly pursued her passion with a renewed drive. It started off with just illustrations of women on clothing articles before she began to include illustrations of relevant social causes, incorporating thematic ideas of socio-cultural issues in her work.
Though she follows her artistic passion with the utmost drive and determination, Hameed considers her work at IBM to be equally important. In point of fact, she considers her getting hired at IBM as one of the most important milestones in her life.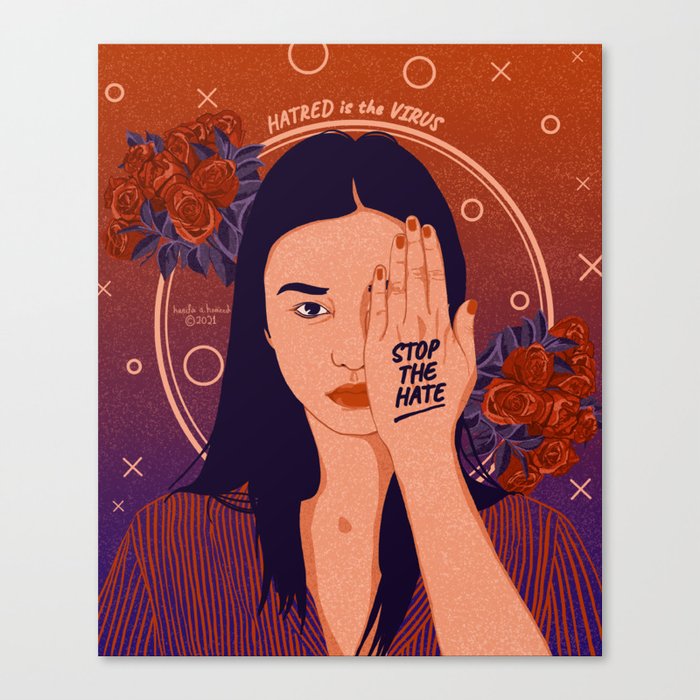 Juggling between her professional career and her artistic creations has not always been easy. Striking a balance has come with it's own set of challenges. When starting her own commissioned work for illustrative pieces, under her own banner of 'Colors of Honey', Hameed found that when she started creating pieces that incorporated social causes, it led to a greater attention to her work. And, though, it is, sometimes, an apprehensive task to project one's own political and social views into a public space, Hameed has found support and encouragement from those around her. Even so, for an artist starting out, things can be quite uncertain. For Hameed, a particular incident was when she found that she was not credited nor paid for her work. Though she ended up confronting the person involved, it was an important lesson on some of the challenges that can come in the way.
Despite the bumps and the stumbling blocks, Hameed has not only stuck to creating art but also grown from it. For her, art is almost meditative, creating an avenue for her to manifest, on to her illustrative pieces, what she feels and thinks at the moment. And her messages are not the subtle kind. Like her, they are bold, standing tall amongst a crowd.
For others wishing to follow their own passion or dream, Hameed insists upon the importance of not only working on your goal, but, really, working hard for it. It is persistent work and effort that counts in the long run. Innate talent will never be enough to attain the things one dreams of. After all, for Hanifa Abdul Hameed, mere thought can never be enough. For her, it will always be about manifesting dreams. 
Illustrator Sanjana Goenka: Her Journey of Art and How it Saved her.
The story of Illustrator and Artist Sanjana Goenka and how she uses art and illustrations to raise awareness around mental health issues.
Sanjana's journey with art is beautiful with all elements of ups and downs. Truly, we live for art. It is like a fresh breath of air and livening to the heart. For Sanjana, art was not just a splash of colours and mandala, but a door for a new chapter in her life. Struggling with her mental health, art became one of her mediums to understand and express herself. Born in Mumbai, and with an undergraduate degree in business management from London, Sanjana dropped all conventions and norms to follow the beat of her heart. It is sheer love and passion for art which is sustaining her. She is now an illustrator and an artist.
The Beginning
A 3-year-old Sanjana was already fascinated by art and colours. Like every memorable precious memory that gets stuck in our head and heart so vividly, Sanjana too had her moment with art. It was that very moment that made her realise how vibrant she feels with art around her.
The memory goes, as narrated by Sanjana, "Art has always been something I loved, but I remember the day I knew I loved it. I was 5 years old when I had to make a poster for school. My mum drew a picture of a chef for my poster, and I was convinced that my mum was superhuman and surely the finest artist in the world! Since then, I had an insatiable urge to draw everything and on everything." To be a 5-year-old child and remember this surely tells the gravity of how dear art has meant to Sanjana since the very beginning.
Initially Sanjana wanted to do Architecture, but realised that she wasn't capable of much for it, therefore she willingly dropped it and moved to pursue business management in London. This was a turning point in Sanjana's life. Halfway through her job, Sanjana was going through mental health issues. She got diagnosed with Bipolar disorder, depression and anxiety. During that time, art anchored her towards calmness and serenity. Sanjana did Zentangle art, an art form similar to Mandala drawings. The consistent lines and mark making produced immaculate and structured pieces of art, which helped her to cope. It was natural for her then to drop her job and make a career out of art.
The Journey
Over the years, Sanjana has been in a much better place mentally. Moving on from Zentangle Art, she is in a constant pursuit of finding the art which resonates with her. Changing her art style completely was one of the courageous steps in life that she took.
Abstract concepts, colours, themes, and anomalous pieces of art intrigue her. She believes in producing art fit for the walls rather than conventional drawings for Social Media, which are forgotten. Sanjana told us that producing specific kinds of artwork, which were 'social media worthy', amassed her a lot of followers.
However, the main purpose of art for her is to feel something. Struggling with mental health, art has been healing and therapeutic for her. To not be able to connect with art in the same way frustrated her. Art reeled her in and became a reflection of her mental health. Sticking to one art style betrayed that honesty. Changing her art style led to a lower reach on her social media, but led to more enquiries on buying her art. On changing her art style completely, Sanjana says that, "It definitely felt like a moment when I had to take a huge leap of faith because I had to bet solely on myself."
The main theme that Sanjana explores with her artworks is Identity. All of her illustrations and art pieces attempt to encapsulate the differences in each person's identity. The distortions and unconventionality in her pieces celebrates the uniqueness of every individual.
Sanjana's favourite artists are F.N. Souza and Egon Schiele. Their work on figures and faces are incredible to her. She also finds Jean-Michel Basquiat's use of colour and expression interesting. On unmotivated and tired days, Sanjana watches videos and reads topics and concepts she finds gripping. The videos and readings of course result in new thoughts, opinions, themes and ideas which she uses to go back to manifest it in her drawing and art.
Message for Aspiring Artists
Sanjana believes everybody has talent within them. For art, however, that's not entirely the case. Art is in all of us, but hard work and persistence refines that element in us. As a message to all aspiring artists, Sanjana puts it in a few intelligible and honest words, "Passion is impossible to fake, and impossible to ignore." She believes that if you find a path you want to follow, even if you're pushed beyond your boundaries to follow it, don't take it for granted. She asks all artists to have unwavering conviction in them because there can be days when the choices we make can fail us, but we should not undervalue ourselves, our work or our time. Learn, read and study, to unravel more about yourself and your art. Lastly, imitation of art could be flattery for some, but give the world your own true version.