Wishing Through The Silence Of Night: Rushabh Jain
A talented singer-songwriter, Rushabh Jain talks about his first ever performance on stage, managing a drunk crowd and his upcoming EP.
There is a brief pause between us before he dives in to recount his story. There is a boyish charm to the way he speaks and, yet, it does not disguise the wealth of experience he holds behind him. Rushabh Jain, an incredibly talented singer-songwriter, has been moving crowds all over the country for quite some time now. Gearing up to release his first EP soon, he takes the time to walk us through his love for music and his journey so far.
Passionate about performing ever since he was a child, Jain recalls how, initially, he found it a little difficult to sing in front of a large audience. To overcome this, he decided to participate in a singing competition held in his school. Unfortunately, owing to some technical difficulties, namely in the manner in which the audio was set up, the experience turned out to be a little disappointing for him. He even remembers some of the audience members laughing at him. That's a lot to take for a child of that age.
He took that in stride, however. Pushing himself to practice more, he performed again in the following singing competition. He went on to sing the track 'Ma' from the movie, 'Taare Zameen Par'. In point of fact, he sang it so well that he moved one of his teachers to tears. That whole experience was foundational for Jain.
Soon enough, Jain had to move to another school, one that was much larger than his previous one. He admits having had some difficulty adjusting to his new surroundings, spending his time practicing, quietly, on his own. It was only in 10th grade that he was asked to sing at a school event. He attributes that particular incident for making him dive back into performing for a large audience. After that, there was no looking back, with him spending his time learning and growing his own grasp of music and participating in numerous competitions.
Perhaps the greatest catalyst for Jain to pursue music professionally was his move to Nagpur. Pursuing a course in Chartered Accountancy in the city, he was exposed to a whole scene where he saw others, like him, pursuing their own passion for music. Performing at an event in his institute, he was met with an exceptional response. It was, then, that he decided to dedicate himself to music completely.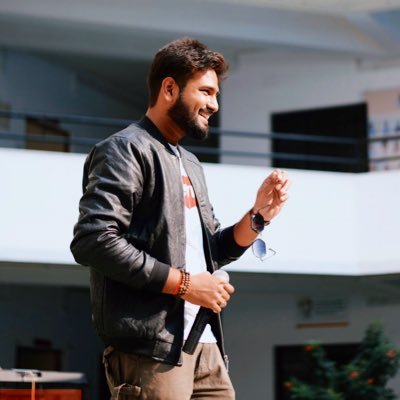 Indeed, it was a decision well made. Jain has gone on to perform all over the country. Hilariously, he remembers his first commercial performance on stage, back when he was still pursuing his Chartered Accountancy course.. It was at a club in Nagpur. He, however, was back home, preparing for his exams. Some last minute calls, a rushed trip to Nagpur over the weekend and he made it just in time for the gig.
Jain spent the next few hours managing a drunk crowd and performing the same ten songs, on the insistence of his audience, over the course of three hours. Now, as he happily states, from ten songs he has gone on to have over four to five thousand songs in his repertoire, able to perform them at any given time.
That's not all. Jain is, currently, working on his first EP. In the conversation, he talks about his own personal sound, one he characterizes as being melodious but also slightly dark. It is this same voice that he brings to the project he is working on. Going a little further, he talks about some of the core ideas behind the EP, titled 'Raat'. As he says, 'Raat' is an amalgamation of his own personal interests and the hushed, quiet feeling that the night, sometimes, brings. Having completed around four to five tracks in the EP, he sets a tentative release date for December of this year.
So far, in his journey, Jain, in his attempt to grow and evolve his own sound, has had experience with numerous competitions. As a matter of fact, he was declared the winner of 'Rising Star' in Nagpur in 2017 and then, in 2019, he went on to win the 'Radio City Super Singer' competition. He, however, draws a lot of significance from the places he just barely missed out on. Indeed, he made it to the final selection stages in numerous televised shows, including, but not limited to, Indian Idol. Growing from that, he, now, maintains a certain distance from such televised competitions, owing partly due to the nature of such programmes and, also, his own need to grow and evolve.
Diving a little deeper, Jain touches on how the culture of the Music Industry, in India, differs markedly from other countries. Citing the examples of singers, such as Prateek Kuhad and Anuv Jain, he talks about how, gradually, artists in India are carving their own space independent of any other factor. While the goal of establishing himself in the industry remains, he, also, stresses on the importance of artists being recognized on their own merit.
With a remarkable journey behind him, Jain stands on his own personal experiences. He talks about how having faith, in your journey ahead, is of critical importance. His achievements and his failures, as he states, are of his own making. This idea, as a matter of fact, is the same bit of advice that he would give to others starting out in their own fields. Embracing your own reality, with all that it encapsulates, while having faith in the path you decide to take is, according to Rushabh Jain, the secret to succeeding. That and a tremendous amount of practice.
Ushering In the First Few Drops Of The Monsoon Rain: Malhaar
In a conversation with the incredibly talented members of the acapella band, Malhaar, we get a peek at what exactly makes the band tick.
There are only a handful of styles, in terms of musical performances, that India is not intimately familiar with. In a country where there is a huge emphasis on mainstream production of music, Malhaar has been blazing a quiet and steady path for itself, with a genuine focus on beautiful vocal performances. These are five incredibly talented individuals who have tapped into a relatively unexplored style, with each member being as passionate as the next. In a conversation with the band, I learn that their journey has been one of unshakeable perseverance.
Malhaar is an acapella band, with Sahana Hegde, Prathima Karanth and Anirudh Bhargav as the lead vocalists. Shreyas Nayak stands as the only percussionist in the group, while Gagan Raj makes his presence felt with his incredible beatboxing, diving into quite a bit of singing as well.
Initially part of the same Indian Music team from their college days, Malhaar actually gets its name from the Hindustani classical raga. Of course, the name differs a little from its original spelling, however, that's only because the people involved, in the original team in college, imparted their own inflections to the name.
The name isn't the only thing that stakes out a unique territory for itself. The members of Malhaar have been making waves in a music scene that is predominantly focused on millennial pop or Hip Hop. As Anirudh states, the whole idea of starting an acapella group comes from the western counterpart of the music team in their college. Listening to one of their performances, Anirudh found himself awestruck and sought out the other members, in the hopes of starting something on their own. It is, perhaps, a desire to bring out something that is not only fresh but also aligned with their own artistic inclinations. Even so, they recognize how unfamiliar it might all be to an audience. It is with that same recognition that they seek to bring acapella to a native audience by incorporating a sense of familiarity through Indian music.
It has taken a fair bit of time for people to understand the style in which Malhaar delivers its performances. If you head over to their social channels, you would see that the band covers a wide variety of pretty much everything. From the nostalgic Airtel jingle to a medley of Kishore Kumar's songs, Malhaar has been doing things its own way, and to be completely honest, doing it incredibly well. It might seem random at first, but if you look closer, you would understand that they follow a certain theme in each of their compositions. For example, the tribute to Kishore Kumar, titled 'Safar', is a composition that takes multiple tracks and harmonizes them into a beautifully blended musical arrangement. The idea is to build a founding base where the original track can be moulded into something that each member can lend their own voice to.
All of that can, sometimes, be difficult to navigate, especially when there are multiple people involved. It becomes easier, then, that the members of Malhaar have a long standing friendship with each other. There is a love and understanding between them that is not only evident in the manner in which they speak but also their performances.
Speaking of performances, Sahana tells me about the founding experience that pushed them to start their own channel where they upload their performances. Performing at an alumni meet for their college, the team was invited over to IIT Madras to perform at an event. Notwithstanding the time they performed at their alumni meet, I think that singular acapella performance on stage, at IIT Madras, gave birth to Malhaar, as we know them today. Even so, Anirudh, along with the other members, states that the whole performance was more of a trial run than anything else. And, in a way, it was. It laid the stepping stone for the group to become truly confident in what they do now.
I have said this earlier and I will say it again. Malhaar is not your usual band. No. In fact, they are a uniquely talented acapella group, with five incredibly gifted members standing and supporting each other with their own individual passion and understanding. After all, If that wasn't the case, you probably would have never gotten this beautiful rendition of 'Zehnaseeb'.