Wishing Through The Silence Of Night: Rushabh Jain
A talented singer-songwriter, Rushabh Jain talks about his first ever performance on stage, managing a drunk crowd and his upcoming EP.
There is a brief pause between us before he dives in to recount his story. There is a boyish charm to the way he speaks and, yet, it does not disguise the wealth of experience he holds behind him. Rushabh Jain, an incredibly talented singer-songwriter, has been moving crowds all over the country for quite some time now. Gearing up to release his first EP soon, he takes the time to walk us through his love for music and his journey so far.
Passionate about performing ever since he was a child, Jain recalls how, initially, he found it a little difficult to sing in front of a large audience. To overcome this, he decided to participate in a singing competition held in his school. Unfortunately, owing to some technical difficulties, namely in the manner in which the audio was set up, the experience turned out to be a little disappointing for him. He even remembers some of the audience members laughing at him. That's a lot to take for a child of that age.
He took that in stride, however. Pushing himself to practice more, he performed again in the following singing competition. He went on to sing the track 'Ma' from the movie, 'Taare Zameen Par'. In point of fact, he sang it so well that he moved one of his teachers to tears. That whole experience was foundational for Jain.
Soon enough, Jain had to move to another school, one that was much larger than his previous one. He admits having had some difficulty adjusting to his new surroundings, spending his time practicing, quietly, on his own. It was only in 10th grade that he was asked to sing at a school event. He attributes that particular incident for making him dive back into performing for a large audience. After that, there was no looking back, with him spending his time learning and growing his own grasp of music and participating in numerous competitions.
Perhaps the greatest catalyst for Jain to pursue music professionally was his move to Nagpur. Pursuing a course in Chartered Accountancy in the city, he was exposed to a whole scene where he saw others, like him, pursuing their own passion for music. Performing at an event in his institute, he was met with an exceptional response. It was, then, that he decided to dedicate himself to music completely.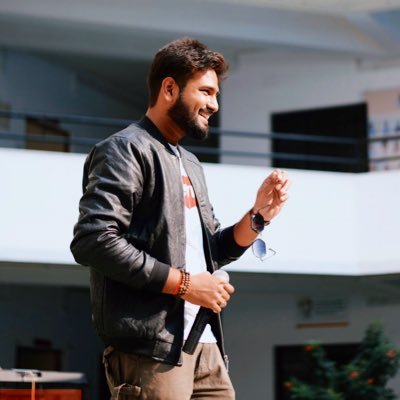 Indeed, it was a decision well made. Jain has gone on to perform all over the country. Hilariously, he remembers his first commercial performance on stage, back when he was still pursuing his Chartered Accountancy course.. It was at a club in Nagpur. He, however, was back home, preparing for his exams. Some last minute calls, a rushed trip to Nagpur over the weekend and he made it just in time for the gig.
Jain spent the next few hours managing a drunk crowd and performing the same ten songs, on the insistence of his audience, over the course of three hours. Now, as he happily states, from ten songs he has gone on to have over four to five thousand songs in his repertoire, able to perform them at any given time.
That's not all. Jain is, currently, working on his first EP. In the conversation, he talks about his own personal sound, one he characterizes as being melodious but also slightly dark. It is this same voice that he brings to the project he is working on. Going a little further, he talks about some of the core ideas behind the EP, titled 'Raat'. As he says, 'Raat' is an amalgamation of his own personal interests and the hushed, quiet feeling that the night, sometimes, brings. Having completed around four to five tracks in the EP, he sets a tentative release date for December of this year.
So far, in his journey, Jain, in his attempt to grow and evolve his own sound, has had experience with numerous competitions. As a matter of fact, he was declared the winner of 'Rising Star' in Nagpur in 2017 and then, in 2019, he went on to win the 'Radio City Super Singer' competition. He, however, draws a lot of significance from the places he just barely missed out on. Indeed, he made it to the final selection stages in numerous televised shows, including, but not limited to, Indian Idol. Growing from that, he, now, maintains a certain distance from such televised competitions, owing partly due to the nature of such programmes and, also, his own need to grow and evolve.
Diving a little deeper, Jain touches on how the culture of the Music Industry, in India, differs markedly from other countries. Citing the examples of singers, such as Prateek Kuhad and Anuv Jain, he talks about how, gradually, artists in India are carving their own space independent of any other factor. While the goal of establishing himself in the industry remains, he, also, stresses on the importance of artists being recognized on their own merit.
With a remarkable journey behind him, Jain stands on his own personal experiences. He talks about how having faith, in your journey ahead, is of critical importance. His achievements and his failures, as he states, are of his own making. This idea, as a matter of fact, is the same bit of advice that he would give to others starting out in their own fields. Embracing your own reality, with all that it encapsulates, while having faith in the path you decide to take is, according to Rushabh Jain, the secret to succeeding. That and a tremendous amount of practice.
Shubham Shyam And His Constant Companion, Poetry
A conversation with Shubham Shyam, a poet, and his journey on a path of dilemmas and struggles as an artist.
Poetry evokes emotions many. It is a different language, an easier one perhaps since it brings solace to many. Shubham Shyam is a magician when it comes to words and verses. Two of his much loved poetries, 'Gir Jaana Mera Ant Nahi' and 'Woh Aaj Nahi Toh Kal Hoga', have been like a ray of hope, promise, and strength to many people.
In an interview conversation with Shubham Shyam, we learnt about his struggles, his dilemmas, and how poetry has been his companion at all times. Whoever he is today didn't come easily. Here's a deeper dive into how Shubham knits words and brings an enigma, and a lyrical, thought-provoking masterpiece on the table.
Early Life: How Did Poetry Happen To Him?
Shubham was born in a small village of Bihar, known as Dumaigarh, in Chhapra district. He did most of his schooling from there until his father sent him to Patna city for better educational opportunities. He studied in a CBSE affiliated school, which meant that he was supposed to pick one language from Hindi and Sanskrit to continue in his 9th grade. Since Sanskrit was a scoring subject, and most of his friends opted for Sanskrit too, Shubham too decided to continue with Sanskrit. However, his father wasn't happy with this decision, and asked Shubham to re-opt for Hindi.
It was natural that Shubham ended up disliking Hindi, because, first, Hindi wouldn't get him the marks that Sanskrit would have, and second, it also meant that he wouldn't be in the same class as his friends now. His Hindi teacher sensed this rift between him and the subject. She, therefore, gave him poetry books to read and asked him to pick one line from these poems and write another poem out of it. Thus, Shubham started writing poetries in 9th grade.
After his schooling, he went to Kota to prepare for engineering and further completed his mechanical engineering from Tamil Nadu.
Decisions To Make: Poetry Or Engineering?
Shubham was obviously not born with a silver platter. When he went to Patna and later to Tamil Nadu to complete engineering, he also took along with him the expectations of his parents. It was years of hard work, loans, and pressure, and finally he completed engineering. However, when he returned to his parents, he declared that he's dropping engineering, and instead is going to pursue poetry, his passion. It was the path he wanted to walk on. Meanwhile, his father was doubtful of a life of a poet. In the end, he wanted his son to live a financially comfortable life. Nevertheless, his father gave up and eventually let him leave.
Shubham stepped foot into the city of dreams—Mumbai. While poetry didn't guarantee to fuel his income, it for sure was feeding his soul. Till date, Shubham does other jobs to sustain himself, while poetry remains his all-time passion. Currently, he is a teacher. He teaches mathematics to grade 11th and 12th, and on the side, performs poetry shows.
Life of a poet isn't easy. When Shubham first came to Mumbai, despite the unhappiness of his parents, he ran into a director. This director asked him to write a screenplay. Shubham narrated that while the topic was vague, he still of course wrote it and submitted. It was also the first time he wrote a screenplay. The director disliked it, teared it apart, and told Shubham to go back to his engineering job, experience the world for a few years and then return. As someone who had put everything on line for pursuing poetry, these words completely broke him, but of course, not enough to make him give up. Fast forward to a few years later, when Shubham got featured on Kapil Sharma's show, the same director texted him the words, "good work." For Shubham, it has been a different satisfaction to prove people wrong.
Shubham Shyam Shares Tips For Aspiring Poets
Shubham talked about how he writes poetries. There is certainly not any hard and fast rule, because poetry comes naturally to him. He explained that most times, his surroundings impact him. Be it political, social or just natural annoyance which might tug at him for reasons many. Shubham then dumps these feelings on a piece of paper, and these come out poetically, in verses. It becomes a cycle for him, since poetry writing then makes him feel better and also produces beautiful, thought provoking written pieces.
For aspiring poets, he shared many insights and tips. Firstly, that poetry comes from within, and to hone that mastery over words, one must read a lot. Reading opens up perspectives, brings multiple experiences to the table, and sharpens the vocabulary. Ramdhari Singh Dinkar has been an inspiring poet figure for Shubham. His poetry has proved to be this new avenue of writing and perspectives for him. Second, practice narrating it and expressing your written piece, its emotions as accurately and honestly as possible. Make your poetry heard by performing and through social media.
Shubham Shyam has reached a vast audience through the power of the internet. Many of his poems, written years back, have now gone viral. Famous personalities like Anupam Kher, Aakash Chopra and Aditya Thakre have even recited his poems. With social media sites like YouTube, live-streaming is also now possible, which brings all community artists and art lovers on the same level to experience, listen and create. Therefore, getting your work heard is equally important. Shubham also believes that talent will remain stagnant without hard work. You must make your own path to success, because there is honestly no shortcut. Progress can only come when you decide to jump and not be scared. Along with this, discipline and dedication will promise you the wings to fly further. In the midst of this, however, always remember to keep your feet planted to the ground as well.