Wishing Through The Silence Of Night: Rushabh Jain
A talented singer-songwriter, Rushabh Jain talks about his first ever performance on stage, managing a drunk crowd and his upcoming EP.
There is a brief pause between us before he dives in to recount his story. There is a boyish charm to the way he speaks and, yet, it does not disguise the wealth of experience he holds behind him. Rushabh Jain, an incredibly talented singer-songwriter, has been moving crowds all over the country for quite some time now. Gearing up to release his first EP soon, he takes the time to walk us through his love for music and his journey so far.
Passionate about performing ever since he was a child, Jain recalls how, initially, he found it a little difficult to sing in front of a large audience. To overcome this, he decided to participate in a singing competition held in his school. Unfortunately, owing to some technical difficulties, namely in the manner in which the audio was set up, the experience turned out to be a little disappointing for him. He even remembers some of the audience members laughing at him. That's a lot to take for a child of that age.
He took that in stride, however. Pushing himself to practice more, he performed again in the following singing competition. He went on to sing the track 'Ma' from the movie, 'Taare Zameen Par'. In point of fact, he sang it so well that he moved one of his teachers to tears. That whole experience was foundational for Jain.
Soon enough, Jain had to move to another school, one that was much larger than his previous one. He admits having had some difficulty adjusting to his new surroundings, spending his time practicing, quietly, on his own. It was only in 10th grade that he was asked to sing at a school event. He attributes that particular incident for making him dive back into performing for a large audience. After that, there was no looking back, with him spending his time learning and growing his own grasp of music and participating in numerous competitions.
Perhaps the greatest catalyst for Jain to pursue music professionally was his move to Nagpur. Pursuing a course in Chartered Accountancy in the city, he was exposed to a whole scene where he saw others, like him, pursuing their own passion for music. Performing at an event in his institute, he was met with an exceptional response. It was, then, that he decided to dedicate himself to music completely.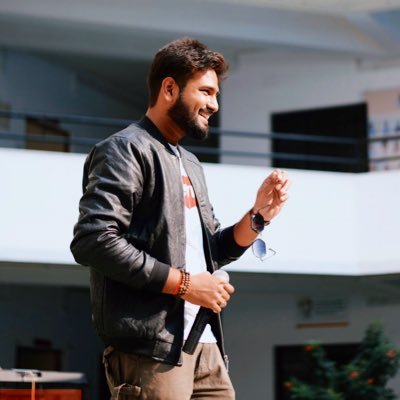 Indeed, it was a decision well made. Jain has gone on to perform all over the country. Hilariously, he remembers his first commercial performance on stage, back when he was still pursuing his Chartered Accountancy course.. It was at a club in Nagpur. He, however, was back home, preparing for his exams. Some last minute calls, a rushed trip to Nagpur over the weekend and he made it just in time for the gig.
Jain spent the next few hours managing a drunk crowd and performing the same ten songs, on the insistence of his audience, over the course of three hours. Now, as he happily states, from ten songs he has gone on to have over four to five thousand songs in his repertoire, able to perform them at any given time.
That's not all. Jain is, currently, working on his first EP. In the conversation, he talks about his own personal sound, one he characterizes as being melodious but also slightly dark. It is this same voice that he brings to the project he is working on. Going a little further, he talks about some of the core ideas behind the EP, titled 'Raat'. As he says, 'Raat' is an amalgamation of his own personal interests and the hushed, quiet feeling that the night, sometimes, brings. Having completed around four to five tracks in the EP, he sets a tentative release date for December of this year.
So far, in his journey, Jain, in his attempt to grow and evolve his own sound, has had experience with numerous competitions. As a matter of fact, he was declared the winner of 'Rising Star' in Nagpur in 2017 and then, in 2019, he went on to win the 'Radio City Super Singer' competition. He, however, draws a lot of significance from the places he just barely missed out on. Indeed, he made it to the final selection stages in numerous televised shows, including, but not limited to, Indian Idol. Growing from that, he, now, maintains a certain distance from such televised competitions, owing partly due to the nature of such programmes and, also, his own need to grow and evolve.
Diving a little deeper, Jain touches on how the culture of the Music Industry, in India, differs markedly from other countries. Citing the examples of singers, such as Prateek Kuhad and Anuv Jain, he talks about how, gradually, artists in India are carving their own space independent of any other factor. While the goal of establishing himself in the industry remains, he, also, stresses on the importance of artists being recognized on their own merit.
With a remarkable journey behind him, Jain stands on his own personal experiences. He talks about how having faith, in your journey ahead, is of critical importance. His achievements and his failures, as he states, are of his own making. This idea, as a matter of fact, is the same bit of advice that he would give to others starting out in their own fields. Embracing your own reality, with all that it encapsulates, while having faith in the path you decide to take is, according to Rushabh Jain, the secret to succeeding. That and a tremendous amount of practice.
A Star Singer Entering the Scene: Journey of Sahil Dhandhia
The journey of an Indian singer and songwriter, Sahil Dhandhia, changing the conventions about musical career.
Music comes as a bliss after a long, tiring day. And when the lyrics find the way to your heart, it is meant to be played on loop. Parties, long drives, heartbreaks and love stories, music has got every mood covered. It is almost mystical how we transform into the "pop singers of a concert" in shower. I, for sure know I am.
Here is the journey of one such rising star of the musical world. A singer and songwriter, whose story will inspire many young musicians to take a step ahead on the way to their dreams. Sahil Dhandhia, an emerging name, whose journey started off from being an engineer to a successful singer-songwriter, shares his experiences and achievements being in the music industry.
Sahil was born and raised in Mumbai. He completed his high school education residing in Mumbai and went on to pursue graduation in Mechanical Engineering from Stanford University. And after contributing his 10 years in the family business of diamond trade, he soon realized that life had some other plans for him. He decided to drop his career and business and gave a shot to his passion- Music.
The Beginning of a new Chapter
The initial steps for him to take up music as a full-time profession were quite difficult. Belonging to a business family, it was hard for him to convince his family with his decision. And just like an infant learns to walk, Sahil, too, struggled to find the right steps to take ahead.
Dhandhia states that there is still a lack of clarity for beginners in the industry. There are only a handful of opportunities and auditions for new singers and musicians. This was one disappointment he had to face after starting out as a musician. He did not have enough connections or sources that could help him meet the right people for guidance. Yet, he took a huge leap in his career. He considers U2, Iron and Wine and Coldplay to be his inspiration.
Soon in time, he got a project as a recording artist from a renowned meditation app, Sarva, to record a whole bunch of meditation mantras in his voice. It was a major breakthrough of his career. His talent and work made him stand out in the crowd. He got to perform at TED X event early in his career. This further opened many opportunities for him.
A Star in the Making: Sahil's steps to Success
His recent big project, music video 'Chalte Jaana Hai', is not only a reflection of his struggles, hard-work and perseverance but also inspires young musicians, creators and artists to keep moving with a goal and never give up. The song 'Chalte Jaana Hai', in the soothing voice of Dhandhia and soulful lyrics is meant to be played on loop.
Another major break of his career was when he got his first opportunity to sing the jingle of a reality TV show 'All is Well with Dr. Ahluwalia'. He has been performing live in Mumbai at shows, has covered our favorite songs, sung mashups and is aspiring to release many more music videos like 'Chalte Jaana hai', 'Jaane Bhi Do' and 'Dil Mera'.
The Mantras of Music straight from Dhandhia  
Dhandhia is an in-born artist and he writes when music comes to him. He does not believe in sticking to the desk and writing a song. To him, it's all good till he has enough songs lined-up.
For him, Bollywood is the biggest music industry in the country. So, one can always choose to pursue a career in music outside Bollywood but it requires good financial back-up. In the beginning years of a musical career, it is important to have a parallel source of earning to pay off bills.
Sahil believes and encourages the youth to choose a career of their dreams. The artists should follow what they'll enjoy being a part of and not the final destination of the journey. He suggests the upcoming musicians and creators to watch his music video 'Chalte Jaana Hai' whenever they feel low. Giving up on the efforts must not be an option.
He is a constant example of persistence and how dreams can be achieved with consistent efforts, patience and believe in self. Inspiring stories like Sahil's will certainly change the conventions about choosing dreams as professions and redefine success for generations to come.