A Little Bit of Storytelling: The Life and Work of Sai Paranjpye
Take a brief glimpse at the life and work of Sai Paranjpye, an Indian filmmaker and writer, who merged mainstream and parallel cinema.
A prolific writer and filmmaker, who, over the many decades of her life, has managed to merge the distinct lines between mainstream and parallel cinema, Sai Paranjpye stands tall amongst the many legendary figures of Indian Cinema. Her body of work has not only been a focal point for addressing critical social issues but also paved a path for later generations of filmmakers to include ideas of social and cultural relevance in their work. Indeed, it is a point of fact that Paranjpye's work was also a contributing factor to the perpetuation of regional Indian cinema at the time, helping it not only gain recognition in mainstream circles but also flourish without compromising on its core themes and philosophy.
Born, in 1938, to a Russian father and an Indian mother, Paranjpye's parents divorced shortly after her birth and she was raised in her maternal grandfather's household, R.P. Paranjpye, a noted mathematician and educationist who served as India's High Commissioner in Australia from 1944 to 1947. It was a fortunate turn of fate that Paranjpye was born to a family who were already involved in the world of cinema. Her mother, Shakuntala Paranjpye, was a renowned actress in her own right, working alongside the likes of celebrated filmmakers such as V. Shantaram. Paranjpye's uncle, Achyut Ranade, was also a noted filmmaker in the '40s and '50s and he played a crucial role in nurturing Paranjpye's passion for storytelling and filmmaking. As a child, she would often visit her uncle's house who would share stories with her, conveying them in the format of a screenplay. This would mark her first exposure to the world of cinema and the wonders of storytelling.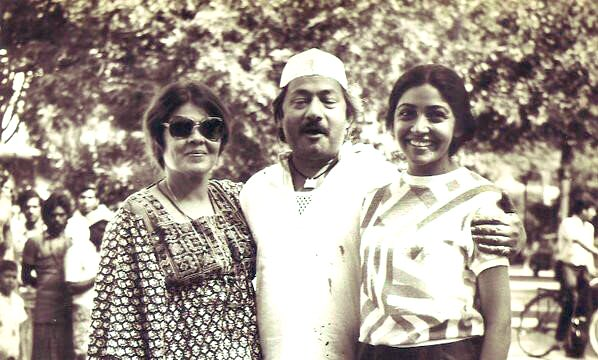 Beginning her career as an announcer at All India Radio (AIR), Paranjpye would soon go on to get involved with the Children's Program at AIR.
Over a gradual period of time Paranjpye has written and directed numerous plays, for adults and children alike, in both English and other regional languages. Her directorial debut came with 'The Little Tea Shop', a movie released directly to television in 1972. It went on to win the Asian Broadcasting Union Award at Teheran. Eight years later, she released her first feature film, 'Sparsh', which was critically acclaimed and won numerous awards, including the National Film Award. Following that, she went on to direct the comedies 'Chashme Buddoor' and 'Katha'. Paranjpye's other works include 'Angootha Chhap' (1988), a film aimed at the National Literacy Mission, 'Disha' (1990), which discussed the issue that immigrant workers faced in the country and 'Chaka Chak' (2005), a movie that was aimed at raising awareness about the myriad environmental issues we face.
Paranjpye's most noted work was, perhaps, her 1993 documentary, titled 'Choodiyan', which examined the anti-liquor agitation in a village in Maharashtra. 'Choodiyan' was awarded the National Award for Best Film on Social Issues. Additionally, Paranpye released 'Suee', a documentary which explores the lives of drug users, touching on the treatment, care and community support that they receive. 'Suee' was aired on Doordashan in December of 2009, as part of its campaign to raise awareness about AIDS. In 2006, Paranjpye was awarded the Padma Bhushan, in recognition of her immense contribution to Indian Cinema.
Paranjpye's lifetime has borne witness to an extensive body of work, one that is marked by the idea of delivering meaningful ideas and content in the format of entertaining cinema and also creating a culture of an audience that is aware about the relevant socio-cultural issues that we face as a society.
Through her work, Sai Paranjpye has cultured an idea of meaningful storytelling, one that is punctuated by her own strength and core ideas but also a larger idea of doing better, of being better as a collective.
Celebrating New Age Female Business Leaders: Happy International Women's Day!
This International Women's day, we bring you some new-age female entrepreneurs to share their success stories in the business world!
We say we live in a progressive world. Yet, hate crimes and gender-based discrimination exist even today. Did you know that less than 15 per cent of the world's countries have a female leader. The gender pay gap is only getting worse. With women of lower caste at even lower advantage. According to the World Economic Forum, at the current rate of change, gender parity won't be attained for another 99.5 years.
Whether it is healthcare, education or the workplace, a woman has to struggle through each phase of her life. And the societal pressure doesn't make it any better.
For years, women have been fighting to be seen as equal. Within this past year, we've made some undeniable strides. Countries with female leaders have received global praise for effectively handling the Covid-19 situation. Recently, Kamala Harris became the First female, Black-and-South-Asian Vice President of the United States of America. And while women are paying taxes for necessary menstrual products in most countries, Scotland became the first country to allow free access to menstrual products.
So yes, we've made progress, but there's still a long way to go. Every March 8th, the social, cultural and economic accomplishments of women is acknowledged. So today, let's celebrate the success stories of these incredibly talented entrepreneurs who have dedicated a large part of their lives trying to bring a change in society!
Midhula Devabhaktuni, Co-Founder and CMO, Mivi
Chief Marketing Officer and Co-Founder of Mivi, Midhula Devabhaktani launched the enterprise with her husband, Viswanadh, in 2015.
After graduating from Jawaharlal Nehru Technical University, Andhra Pradesh, Midhula moved to United States to pursue her Masters. She completed her MBA from the Florida State University and soon began her career as a software engineer working in Xerox. In 2014, she changed her jobs to work with the financial firm, Raymond James.
Creative in nature and a proactive problem solver, Midhula saw the potential for new product in the electronic segment of the Indian market. In 2015, she moved back to India with her husband and began her journey with Mivi.
Prioritizing quality and customer satisfaction over anything else, she states 'No one can promote your product better than a happy customer.' With her 'Made in India' products, she is on a journey to change the face of electronics in India in the coming years!
Karishma Mehta, Founder, Humans of Bombay
With a business and economics degree from the University of Nottingham, UK, Karishma Mehta had just returned back to Mumbai, unsure of her immediate future. You see, her childhood was driven by storytelling. She loved books and words, people and stories. Moreover, the Facebook photography page, 'Humans of New York' posed as a great inspiration.
Soon, she realized that this didn't exist in her own city. And that is how 'Humans of Bombay' came to life in 2014. She created a Facebook page and designed the logo on Microsoft Word. And soon 24-year-old, Karishma was out in the streets of Mumbai, ready to capture the stories of strangers and show them to the rest of the world.
Seven years later, with a community of 2.29 million people, Karishma's project has opened the eyes of many. The stories shared on Humans of Bombay come from people all over India; from various forefronts of society. From homosexuality, acid attack victims, transgender rights to inter-caste love stories and rape victims – Humans of Bombay features all stories.
Karishma, a successful woman entrepreneur, built a community of people who appreciate stripped-down humanity, and nothing else. There's no politics, no negativity, just people sharing stories in hopes of being heard.
Olivia Deka, Founder, She For Change
In 2017, Olivia Deka launched 'She For Change'. This non-profit organization supports young women with an entrepreneurial mindset by connecting them to mentors and changemakers. Moreover, they provide mentorship to young girls across various fields.
'She For Change' addresses issues like education, healthcare, gender-based violence, economic crisis, women empowerment and the environment. They provide various programs like the Leadership Lab, Girls Action Club, Entrepreneurship Development, etc.
They have created a community, a safe space where all these young women can thrive through networking. All this, in hopes of achieving gender equality somewhere in the near future.
Amishi Parasrampuria, Founder, Upcycler's Lab
While pursuing her Masters' degree in International Management, Amishi was introduced to many sustainable and eco-friendly organisations in the UK. When she returned to Mumbai, she started experimenting with upcycling during her free time. Soon, she realized that children are powerful agents of change. And this gave birth to Upcycler's Lab in 2018.
Upcycler's Lab uses play-based learning to develop an eco-conscious mindset among children. The aim is to build inherent eco-friendly habits from a young age through play-based learning.
Upcycler's Lab designs board games, puzzles, storybooks, flashcards, etc., catering to kids aged between two to nine years. These games cover various important topics related to the environment like waste segregation, forest, wildlife, pollution, etc.
Instead of scaring young children of the doomsday awaiting us, they make the games positive and fun. Amishi's enterprise is creating products the young minds of mother earth need.
Sahar Mansoor, Founder at Bare Necessities
In hopes of reversing the damage caused to the environment, Sahar Mansoor founded a zero-waste social enterprise in July 2016. This Bengaluru-based organization, Bare Necessities, follows the philosophy of consuming less and being optimistic.
It all started when Sahar Mansoor started realizing the extent of India's trash problem. And she didn't want to be part of the problem anymore. Since then, Sahar has been living a zero-waste lifestyle. But during her zero-waste lifestyle journey, she struggled to find home care products mirroring her values. So, she started Bare Necessities to help people like her – who wanted to produce less waste and consume mindfully.
Bare Necessities sells personal care and lifestyle products advocating the values of ethical consumption and sustainability. They rely on ethical sourcing from local vendors, emphasizing the employment of women. Bare Necessities products incorporate indigenous ingredients which are not harmful. The enterprise addresses the urgent need for sustainability to reduce the damage caused.
Aditi Gupta, Co-Founder, Menstrupedia
Aditi Gupta's enterprise is all about healthy discussions on menstruation. Menstrupedia comics are meant to help young girls learn about their periods in a comfortable manner.
In a country like India, menstruation still remains a subject of major taboo. Rural as well as many urban families practice unhygienic methods to deal with periods. And this s because periods are considered to be shameful and families don't want to have conversations on this topic.
Menstrupedia is a complete guide on periods. The comic covers all aspects of menstruation. From changes during puberty to explaining what exactly menstruation is. How to track your cycles and PMS, and finally hygiene during the time.
Aditi Gupta was on the Forbes India list of 30 under 30 in 2014. Her work has truly impacted the lives of many young women in the best way possible.