A Little Bit of Storytelling: The Life and Work of Sai Paranjpye
Take a brief glimpse at the life and work of Sai Paranjpye, an Indian filmmaker and writer, who merged mainstream and parallel cinema.
A prolific writer and filmmaker, who, over the many decades of her life, has managed to merge the distinct lines between mainstream and parallel cinema, Sai Paranjpye stands tall amongst the many legendary figures of Indian Cinema. Her body of work has not only been a focal point for addressing critical social issues but also paved a path for later generations of filmmakers to include ideas of social and cultural relevance in their work. Indeed, it is a point of fact that Paranjpye's work was also a contributing factor to the perpetuation of regional Indian cinema at the time, helping it not only gain recognition in mainstream circles but also flourish without compromising on its core themes and philosophy.
Born, in 1938, to a Russian father and an Indian mother, Paranjpye's parents divorced shortly after her birth and she was raised in her maternal grandfather's household, R.P. Paranjpye, a noted mathematician and educationist who served as India's High Commissioner in Australia from 1944 to 1947. It was a fortunate turn of fate that Paranjpye was born to a family who were already involved in the world of cinema. Her mother, Shakuntala Paranjpye, was a renowned actress in her own right, working alongside the likes of celebrated filmmakers such as V. Shantaram. Paranjpye's uncle, Achyut Ranade, was also a noted filmmaker in the '40s and '50s and he played a crucial role in nurturing Paranjpye's passion for storytelling and filmmaking. As a child, she would often visit her uncle's house who would share stories with her, conveying them in the format of a screenplay. This would mark her first exposure to the world of cinema and the wonders of storytelling.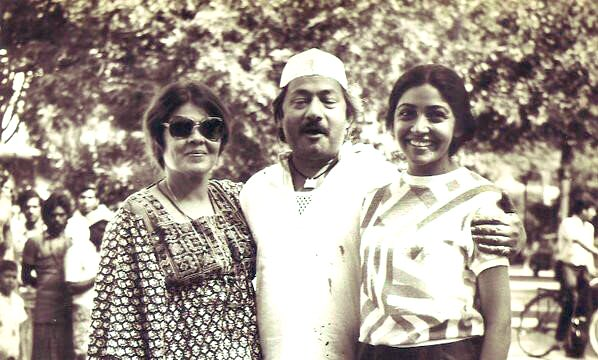 Beginning her career as an announcer at All India Radio (AIR), Paranjpye would soon go on to get involved with the Children's Program at AIR.
Over a gradual period of time Paranjpye has written and directed numerous plays, for adults and children alike, in both English and other regional languages. Her directorial debut came with 'The Little Tea Shop', a movie released directly to television in 1972. It went on to win the Asian Broadcasting Union Award at Teheran. Eight years later, she released her first feature film, 'Sparsh', which was critically acclaimed and won numerous awards, including the National Film Award. Following that, she went on to direct the comedies 'Chashme Buddoor' and 'Katha'. Paranjpye's other works include 'Angootha Chhap' (1988), a film aimed at the National Literacy Mission, 'Disha' (1990), which discussed the issue that immigrant workers faced in the country and 'Chaka Chak' (2005), a movie that was aimed at raising awareness about the myriad environmental issues we face.
Paranjpye's most noted work was, perhaps, her 1993 documentary, titled 'Choodiyan', which examined the anti-liquor agitation in a village in Maharashtra. 'Choodiyan' was awarded the National Award for Best Film on Social Issues. Additionally, Paranpye released 'Suee', a documentary which explores the lives of drug users, touching on the treatment, care and community support that they receive. 'Suee' was aired on Doordashan in December of 2009, as part of its campaign to raise awareness about AIDS. In 2006, Paranjpye was awarded the Padma Bhushan, in recognition of her immense contribution to Indian Cinema.
Paranjpye's lifetime has borne witness to an extensive body of work, one that is marked by the idea of delivering meaningful ideas and content in the format of entertaining cinema and also creating a culture of an audience that is aware about the relevant socio-cultural issues that we face as a society.
Through her work, Sai Paranjpye has cultured an idea of meaningful storytelling, one that is punctuated by her own strength and core ideas but also a larger idea of doing better, of being better as a collective.
Majrooh Sultanpuri: The Celebrated Poet and Lyricist of a Lyrical Versatility
Remembering Majrooh Sultanpuri, the revolutionary Urdu poet and lyricist behind innumerable classics of Hindi cinema.
A large number of Bollywood classics are owed to one man's words alone–– Majrooh Sultanpuri, one of the finest lyricists of 20th-century Hindi cinema. Songs like 'Hum hain rahi pyaar ke hum se kuch na boliye', 'O Hasina Zulfon Wali', 'Chhod Do Aanchal', 'Pehla Nasha' are some among a number of lyrics penned by Sultanpuri which are still hummed today. However, they barely scratch the surface of his six-decade-long career in the film industry, let alone his remarkable poeticism and revolutionary ideals.
(I set out towards my destination all alone but people began to come along and a caravan was formed.)
Asar ul Hasan was born in 1919 in Uttar Pradesh of pre-Independent India. While he began writing poetry early, Hasan became Majrooh, meaning 'the wounded', after the suggestion of his friends. Young Majrooh went on to study Unani medicine to become a physician, but life for him had its own plans.
It was during this time that he recited a ghazal at a mushaira which was so well received that he decided to drop out of medical practice and pursue writing poetry. His talent had caught the attention of the top Urdu poet of the time, Jigar Moradabadi. Morabadi was to play a part in shaping Majrooh Sultanpuri's name as the famous lyricist he was to become. In 1945, Moradabadi took Majrooh to perform at a mushaira in Bombay. There, sitting among the impressed audience was the film producer A. R. Kardar. It was Moradabadi who made the two meet. And later, he persuaded Majrooh, who initially wasn't very keen on working in Bollywood, to write songs for films. And so began Majrooh Sultanpuri's career in cinema with 'Shahjehan' in 1946.
(March ahead while placing the lamps of our heads on the opening of wounds till the dark night of oppression lasts.)
Majrooh's creative career in the film industry spanned over six decades during which he wrote over two thousand songs. Despite this, he didn't hold this work in the highest of regards, because Majrooh Sultanpuri was a poet first and last. He wrote some fifty ghazals and was part of the Progressive Writers Association. A staunch leftist, his Urdu poetry was revolutionary in transcending romantic themes to render its lyricism from a political lens. He had even spent two years in jail after being arrested in 1951 for reciting a poem critical of Nehru.
The versatile creativity of Majrooh Sultanpuri is instantly visible in his illustrious career. He became the first lyricist to be awarded the Dadasaheb Phalke Award in 1993. He breathed his last on 24 May 2000, bringing an end to a long life devoted to writing beautiful, timeless compositions.