Hasrat Jaipuri: Recall The Conductor Turned Legendary Lyricist Of Yesteryears
Let us remember a crucial part of Raj Kapoor's dream team and look back at his zindagi's suhana safar on his 99th Birth Anniversary.
For a song to be a hit and remembered through generations, it takes actual masterminds. Artists who work behind the screens deserve more appreciation as they're the real lifelines for something to be worthy of so much of love and appreciation. Huge part of Raj Kapoor's fame and success' credit goes to the creative team that surrounded him and worked on majority of his projects – his dream team. Let's remember an important part of the said team – Hasrat Jaipuri, on what could have been his 99th Birth Anniversary.
Born in the Pink City as Iqbal Hussain on April 15 1922, Jaipuri grew up with his grandfather. Growing up in Jaipur, he got his grounding in Urdu and Hindi from his grandfather who was a poet, too. Love is a crazy thing; it was the love of a girl named Radha that drove young Iqbal into poetry. The song from Raj Kapoor's movie Sangam – 'Yeh Mera Prem Patra', is a letter he wrote to her and was later turned into a song.
Such was his intelligence and craft. To turn a love letter into an actual song by carefully weaving words and emotions together in right amount and give it appropriate emotional weight – Hasrat Jaipuria was a gifted mastermind.
Barely in his 20s, he flew to Mumbai, like many other youngsters to make a name of his own. Conductor during the day and a performer at Mushairas at the night – that's how he spent his first 8 years in Mumbai. It was that one night at a Mushaira that changed his life. Impressed by his 'Mazdoor ki laash', Prithviraj Kapoor introduced him to Raj Kapoor which opened the doors of a lifelong friendship and a professional relation for him.
'Jiya Beqaraar Hai' was the beginning of Jaipuri's legendary journey to penning down some of Bollywood's most loved songs of all time. Along with Shailendra, Jaipuri went on to giving out some legendary songs that are loved even today.
We are in times where there are people who listen to BTS and also people who listen to Badshah and then you see even these listeners hum to the tune of Zindagi Ek Safar Hai Suhana – this speaks of the impact; the song is loved and appreciated even after decades.
Although it is true not many remember the pen behind the lyrics. Majority of light is thrown at the visuals we all remember or the voices given to the songs. A bunch might also know the composer who birthed the tune. But give credit where it's due – know about the lyricist who wrote these gems of songs. From simple heart touching lyrics to beautiful expressions of heartbreaks and transient happiness – Jaipuri's lyrics have it all.
He passed away on September 17 1999, leaving us with songs like Ichak Dana Bichak Dana, Zindagi Ek Safar Hai Suhana, Teri Pyaari Pyaari Surat, Ehsan Tera Hoga Mujh Par, Sayonara Sayonara, Badan Pe Sitare Lapete Hue etc.; they are now some of the gems that will live with us as long as the love and appreciation for Hindi music does.
Levelling Fields: Looking Towards An Equal Future
On this Women's Day, we take a look at some incredible women who are juggling, defying socio-cultural barriers and saving the world.
The world we knew a while ago no longer exists. It is now a new normal that we follow, where we are careful about standing a little too close to others, where every day is another opportunity for us to catch a disease we have become all too familiar with. In light of the pandemic that has hit the world and our gradual recovery from it, our attempts to rebuild the world must take into consideration the opportunities that are being presented. We have to ask ourselves whether these opportunities are truly equal, whether we are including women into the decisions we make, the decisions that will go on to influence the future we live in. An equal future, where women are equally in positions of power and leadership, is what the focus should be on.
With this in mind, on this Women's Day, we take a look at some incredible women who have defied deep rooted socio-economic and cultural barriers to establish themselves in a field that are predominantly male oriented, who are not only pushing against societal and cultural barriers but also working tirelessly to make the world, we live in, a safer place.  
Dr. Priya Abraham, Director, National Institute of Virology, Pune
Director of the National Institute of Virology, Pune, the leading national institute that tests for the novel coronavirus, Dr. Priya Abraham is the mind behind leaps we have taken, as a country, in fighting against the disease. Dr. Abraham and her team were the ones who successfully isolated the SARS CoV-2 virus in India on March 9th, 2020, making the country the fifth one to do so. As she explains, for the layman, isolating a virus presents numerous opportunities in helping understand the nature of a virus, what drugs it is susceptible to and, most importantly, in the development of future vaccines. The coronavirus, as explained by her, is difficult to propagate in regular culture tests. Working tirelessly and testing over a thousand samples in the lab, Dr. Abraham and her team were responsible for providing the basis for others to further develop vaccines for the disease.
Dr. Renu Swarup, Secretary, Department of Biotechnology, Ministry of Science and Technology, Government of India
Dr. Renu Swarup, Secretary, Government of India, heading the Department of Biotechnology, Ministry of Science and Technology, is an important leading figure in the current atmosphere. Under her leadership, the Department of Biotechnology (DBT) is overseeing the development and commercialization of vaccines in the country. The importance of having a large basket of vaccines available is what Dr. Swarup puts emphasis on. Each indigenious vaccine for the coronavirus, due to being developed by different platforms, has its own set of challenges and benefits. Thus, it is important to have multiple vaccines, being developed and passed through clinical trials, in order to pick the best among the lot. Dr. Swarup, overseeing the efforts of the DBT, plays a crucial role in helping the country prepare and select a remedial course of action in fighting COVID-19.
Dr. Nivedita Gupta, Senior Scientist, Indian Council of Medical Research (ICMR)
Dr. Nivedita Gupta, a Senior Scientist at the Indian Council of Medical Research (ICMR), plays a, somewhat, dual role of science and management in the national effort to combat COVID-19. Initially, a small team of scientists at the ICMR came together to create a network of laboratories in the country for the easy identification and diagnosis of viral infections. Dr. Gupta was the one who led this project. At the outset, they set up 15 labs that came equipped with state of the art technology and specialities that dealt with molecular virology. After the COVID-19 outbreak in December of 2019, Dr. Gupta has, since January of 2020, gone on to set up over 500 laboratories and counting, in order to improve India's diagnostic capacity for the testing and treatment of COVID-19. She and her team are the ones who serve as the backbone for those who are trying to help develop an end to the disease.
Dr. Sumathy K., Head of Research and Development, Bharat Biotech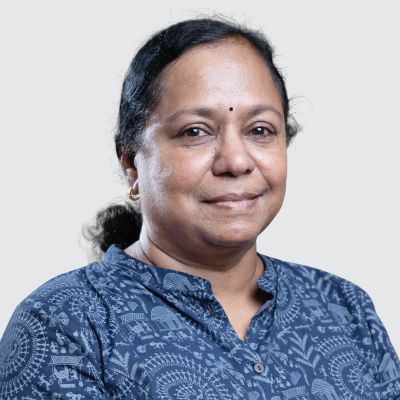 Head of Research and Development at Bharat Biotech, Dr. Sumathy K. is one of the core members of the team who developed Covaxin, India's first indigenously developed and mass produced vaccine. This, in fact, is not the first time that Dr. Sumathy K. has been responsible for the development of vaccines for dangerous viral infections. Indeed, she was the mind behind the development of the vaccines for Chikungunya and Zika for the company. It is, indeed, a tremendous achievement, in terms of the development of Covaxin, as this is the first time that an Indian based biotechnological company has been able to pace itself and kept up with the strides of the giant pharmaceutical companies of the West. Dr. Sumathy K.'s efforts, bolstered by the efforts of those researching and testing the coronavirus strain, is the first step into recovering the life we had before the pandemic began.
Dr. Nita Patel, Senior Director, Novavax
Dr. Nita Patel, currently a Senior Director for the vaccine development programme at Novavax, is another such individual who is heading the development of a vaccine for COVID-19. Under her guidance and leadership, the team, responsible for the development of a vaccine for coronavirus, at Novavax has been able to produce a vaccine, NVX-CoV2373, that is tested for 89.3 percent efficacy in its third phase of clinical trials. The vaccine could be cleared in the US as early as May. Dr. Patel's efforts in the development and the clinical trials of a vaccine, that could make our new normal a safer place to live, must be recognized. Rising from rural poverty in India, Dr. Patel has come a long way and is driven to make the world around her a little safer.
It is important to realize that the efforts of these women all feed into each other. Research and Diagnosis, Treatment and, finally, Management are all important aspects in the battle against COVID-19. Now more than ever, we must recognize the importance of levelling the field for women in all fields, in the hopes of building a world that is truly equal for us all. After all, without these women doing what they do, we would still be faced with the very real possibility of being stuck in the bleak reality that hit us two years ago.