Levelling Fields: Looking Towards An Equal Future
On this Women's Day, we take a look at some incredible women who are juggling, defying socio-cultural barriers and saving the world.
The world we knew a while ago no longer exists. It is now a new normal that we follow, where we are careful about standing a little too close to others, where every day is another opportunity for us to catch a disease we have become all too familiar with. In light of the pandemic that has hit the world and our gradual recovery from it, our attempts to rebuild the world must take into consideration the opportunities that are being presented. We have to ask ourselves whether these opportunities are truly equal, whether we are including women into the decisions we make, the decisions that will go on to influence the future we live in. An equal future, where women are equally in positions of power and leadership, is what the focus should be on.
With this in mind, on this Women's Day, we take a look at some incredible women who have defied deep rooted socio-economic and cultural barriers to establish themselves in a field that are predominantly male oriented, who are not only pushing against societal and cultural barriers but also working tirelessly to make the world, we live in, a safer place.  
Dr. Priya Abraham, Director, National Institute of Virology, Pune
Director of the National Institute of Virology, Pune, the leading national institute that tests for the novel coronavirus, Dr. Priya Abraham is the mind behind leaps we have taken, as a country, in fighting against the disease. Dr. Abraham and her team were the ones who successfully isolated the SARS CoV-2 virus in India on March 9th, 2020, making the country the fifth one to do so. As she explains, for the layman, isolating a virus presents numerous opportunities in helping understand the nature of a virus, what drugs it is susceptible to and, most importantly, in the development of future vaccines. The coronavirus, as explained by her, is difficult to propagate in regular culture tests. Working tirelessly and testing over a thousand samples in the lab, Dr. Abraham and her team were responsible for providing the basis for others to further develop vaccines for the disease.
Dr. Renu Swarup, Secretary, Department of Biotechnology, Ministry of Science and Technology, Government of India
Dr. Renu Swarup, Secretary, Government of India, heading the Department of Biotechnology, Ministry of Science and Technology, is an important leading figure in the current atmosphere. Under her leadership, the Department of Biotechnology (DBT) is overseeing the development and commercialization of vaccines in the country. The importance of having a large basket of vaccines available is what Dr. Swarup puts emphasis on. Each indigenious vaccine for the coronavirus, due to being developed by different platforms, has its own set of challenges and benefits. Thus, it is important to have multiple vaccines, being developed and passed through clinical trials, in order to pick the best among the lot. Dr. Swarup, overseeing the efforts of the DBT, plays a crucial role in helping the country prepare and select a remedial course of action in fighting COVID-19.
Dr. Nivedita Gupta, Senior Scientist, Indian Council of Medical Research (ICMR)
Dr. Nivedita Gupta, a Senior Scientist at the Indian Council of Medical Research (ICMR), plays a, somewhat, dual role of science and management in the national effort to combat COVID-19. Initially, a small team of scientists at the ICMR came together to create a network of laboratories in the country for the easy identification and diagnosis of viral infections. Dr. Gupta was the one who led this project. At the outset, they set up 15 labs that came equipped with state of the art technology and specialities that dealt with molecular virology. After the COVID-19 outbreak in December of 2019, Dr. Gupta has, since January of 2020, gone on to set up over 500 laboratories and counting, in order to improve India's diagnostic capacity for the testing and treatment of COVID-19. She and her team are the ones who serve as the backbone for those who are trying to help develop an end to the disease.
Dr. Sumathy K., Head of Research and Development, Bharat Biotech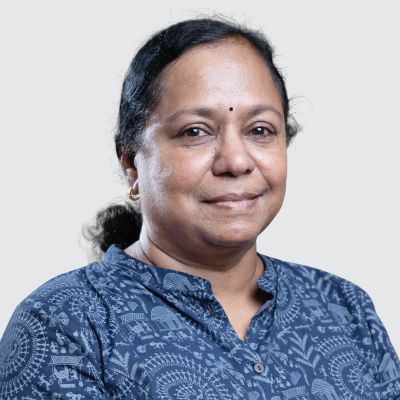 Head of Research and Development at Bharat Biotech, Dr. Sumathy K. is one of the core members of the team who developed Covaxin, India's first indigenously developed and mass produced vaccine. This, in fact, is not the first time that Dr. Sumathy K. has been responsible for the development of vaccines for dangerous viral infections. Indeed, she was the mind behind the development of the vaccines for Chikungunya and Zika for the company. It is, indeed, a tremendous achievement, in terms of the development of Covaxin, as this is the first time that an Indian based biotechnological company has been able to pace itself and kept up with the strides of the giant pharmaceutical companies of the West. Dr. Sumathy K.'s efforts, bolstered by the efforts of those researching and testing the coronavirus strain, is the first step into recovering the life we had before the pandemic began.
Dr. Nita Patel, Senior Director, Novavax
Dr. Nita Patel, currently a Senior Director for the vaccine development programme at Novavax, is another such individual who is heading the development of a vaccine for COVID-19. Under her guidance and leadership, the team, responsible for the development of a vaccine for coronavirus, at Novavax has been able to produce a vaccine, NVX-CoV2373, that is tested for 89.3 percent efficacy in its third phase of clinical trials. The vaccine could be cleared in the US as early as May. Dr. Patel's efforts in the development and the clinical trials of a vaccine, that could make our new normal a safer place to live, must be recognized. Rising from rural poverty in India, Dr. Patel has come a long way and is driven to make the world around her a little safer.
It is important to realize that the efforts of these women all feed into each other. Research and Diagnosis, Treatment and, finally, Management are all important aspects in the battle against COVID-19. Now more than ever, we must recognize the importance of levelling the field for women in all fields, in the hopes of building a world that is truly equal for us all. After all, without these women doing what they do, we would still be faced with the very real possibility of being stuck in the bleak reality that hit us two years ago.
Celebrating Rashtrakavi Ramdhari Singh Dinkar's 113th Birth Anniversary
This 23rd of September let us remember the old greats to define our patriotic spirits
Change happens in a society almost at the speed of light. Just blink and you miss it. Be it people, values, technology And yes, even poetry. There always seems to be some kind of contention between generations. With each party stubbornly convinced that their way of living is absolutely right. But what triumphs over our differences is our experiences-our shared history, heritage and feelings.

Today is a day when we pay homage to one of our nation's greatest poets. And certainly, one who defined the spirit of nationalism for many to come — Ramdhari Singh Dinkar. His longevity is forever etched in public memory as we now remember him as a 'rashtrakavi'(national poet). At a time in the world where we seem to be standing at the crucible of moral, environmental and political crisis; it's worth revisiting a young man who got inspired to contribute to one of the greatest freedom movements of all time.
Early Life
Ramdhari Singh Dinkar was born to Babu Ravi Singh and Manroop Devi in the Simaria district of Begusarai. He was a studious and noticeable student who from a very young age was exposed to the unfairness of living a life in economic discomfort. And as a student and connoisseur of poetry, he was greatly influenced by poets of all languages like English, Bengali, Hindi and Sanskrit. He was so passionate about poetry that he would translate Tagore, Milton, Igbal and Keats.

Adolescence is extremely absorbent, by the time Dinkar reached adolescence, the Indian Freedom struggle had gained formidable momentum. It was the nationwide protests against the Simon Commission which ignited his poet's fuel and prompted him to pick up the pen. Inspired by the peasant satyagraha led by Sardar Patel, Dinkar wrote 10 poems which were published together as 'Vijay Sandesh' (Message of Victory).
Poetry and Politics
Dinkar first saw Mahatma Gandhi in 1920 the same year in which he founded a library named Manoranjan Library. Although he deeply resonated with Gandhian philosophies of non-violence, he called himself a 'bad Gandhian. Years of poverty and witnessing brutality had ignited something within him. Even in his works, he would always rally the people to not let the oppressors go unscathed and unaffected. By all means, Rashtrkavi Dinkar was a poet of the people.
He served our country in a parliamentary capacity as well. After doing two terms in Rajya Sabha, he was appointed the National Hindi advisor. One of the epochs of his poetic prowess is the work 'Sanskriti ke Chaar Adhyay' explores the four big cultural revolutions that India has seen. And through this magnum opus, he only goes on to show how India is an integrated and diverse melting point for all cultural identities. His poems on the tragic son of Kunti, Karn from the Mahabharat clearly shows his disdain for the caste system and the discrimination that came along with it.
As one can see, these are values that are adopted even today, even seventy-four years post-independence. Perhaps this was the quality that earned Ramdhari Singh Dinkar the Sahitya Akademi Award in 1959. As well as the Padma Bhushan in the same year. In 1974, the Rashtra Kavi passed away at the age of 65 leaving an indelible legacy for all of us.