Levelling Fields: Looking Towards An Equal Future
On this Women's Day, we take a look at some incredible women who are juggling, defying socio-cultural barriers and saving the world.
The world we knew a while ago no longer exists. It is now a new normal that we follow, where we are careful about standing a little too close to others, where every day is another opportunity for us to catch a disease we have become all too familiar with. In light of the pandemic that has hit the world and our gradual recovery from it, our attempts to rebuild the world must take into consideration the opportunities that are being presented. We have to ask ourselves whether these opportunities are truly equal, whether we are including women into the decisions we make, the decisions that will go on to influence the future we live in. An equal future, where women are equally in positions of power and leadership, is what the focus should be on.
With this in mind, on this Women's Day, we take a look at some incredible women who have defied deep rooted socio-economic and cultural barriers to establish themselves in a field that are predominantly male oriented, who are not only pushing against societal and cultural barriers but also working tirelessly to make the world, we live in, a safer place.  
Dr. Priya Abraham, Director, National Institute of Virology, Pune
Director of the National Institute of Virology, Pune, the leading national institute that tests for the novel coronavirus, Dr. Priya Abraham is the mind behind leaps we have taken, as a country, in fighting against the disease. Dr. Abraham and her team were the ones who successfully isolated the SARS CoV-2 virus in India on March 9th, 2020, making the country the fifth one to do so. As she explains, for the layman, isolating a virus presents numerous opportunities in helping understand the nature of a virus, what drugs it is susceptible to and, most importantly, in the development of future vaccines. The coronavirus, as explained by her, is difficult to propagate in regular culture tests. Working tirelessly and testing over a thousand samples in the lab, Dr. Abraham and her team were responsible for providing the basis for others to further develop vaccines for the disease.
Dr. Renu Swarup, Secretary, Department of Biotechnology, Ministry of Science and Technology, Government of India
Dr. Renu Swarup, Secretary, Government of India, heading the Department of Biotechnology, Ministry of Science and Technology, is an important leading figure in the current atmosphere. Under her leadership, the Department of Biotechnology (DBT) is overseeing the development and commercialization of vaccines in the country. The importance of having a large basket of vaccines available is what Dr. Swarup puts emphasis on. Each indigenious vaccine for the coronavirus, due to being developed by different platforms, has its own set of challenges and benefits. Thus, it is important to have multiple vaccines, being developed and passed through clinical trials, in order to pick the best among the lot. Dr. Swarup, overseeing the efforts of the DBT, plays a crucial role in helping the country prepare and select a remedial course of action in fighting COVID-19.
Dr. Nivedita Gupta, Senior Scientist, Indian Council of Medical Research (ICMR)
Dr. Nivedita Gupta, a Senior Scientist at the Indian Council of Medical Research (ICMR), plays a, somewhat, dual role of science and management in the national effort to combat COVID-19. Initially, a small team of scientists at the ICMR came together to create a network of laboratories in the country for the easy identification and diagnosis of viral infections. Dr. Gupta was the one who led this project. At the outset, they set up 15 labs that came equipped with state of the art technology and specialities that dealt with molecular virology. After the COVID-19 outbreak in December of 2019, Dr. Gupta has, since January of 2020, gone on to set up over 500 laboratories and counting, in order to improve India's diagnostic capacity for the testing and treatment of COVID-19. She and her team are the ones who serve as the backbone for those who are trying to help develop an end to the disease.
Dr. Sumathy K., Head of Research and Development, Bharat Biotech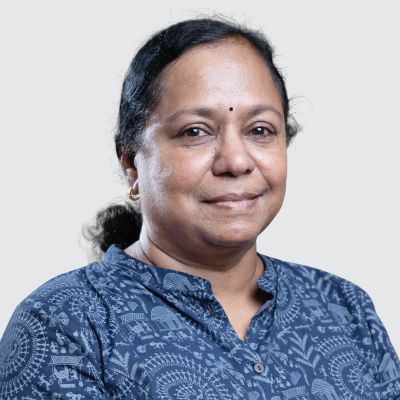 Head of Research and Development at Bharat Biotech, Dr. Sumathy K. is one of the core members of the team who developed Covaxin, India's first indigenously developed and mass produced vaccine. This, in fact, is not the first time that Dr. Sumathy K. has been responsible for the development of vaccines for dangerous viral infections. Indeed, she was the mind behind the development of the vaccines for Chikungunya and Zika for the company. It is, indeed, a tremendous achievement, in terms of the development of Covaxin, as this is the first time that an Indian based biotechnological company has been able to pace itself and kept up with the strides of the giant pharmaceutical companies of the West. Dr. Sumathy K.'s efforts, bolstered by the efforts of those researching and testing the coronavirus strain, is the first step into recovering the life we had before the pandemic began.
Dr. Nita Patel, Senior Director, Novavax
Dr. Nita Patel, currently a Senior Director for the vaccine development programme at Novavax, is another such individual who is heading the development of a vaccine for COVID-19. Under her guidance and leadership, the team, responsible for the development of a vaccine for coronavirus, at Novavax has been able to produce a vaccine, NVX-CoV2373, that is tested for 89.3 percent efficacy in its third phase of clinical trials. The vaccine could be cleared in the US as early as May. Dr. Patel's efforts in the development and the clinical trials of a vaccine, that could make our new normal a safer place to live, must be recognized. Rising from rural poverty in India, Dr. Patel has come a long way and is driven to make the world around her a little safer.
It is important to realize that the efforts of these women all feed into each other. Research and Diagnosis, Treatment and, finally, Management are all important aspects in the battle against COVID-19. Now more than ever, we must recognize the importance of levelling the field for women in all fields, in the hopes of building a world that is truly equal for us all. After all, without these women doing what they do, we would still be faced with the very real possibility of being stuck in the bleak reality that hit us two years ago.
Rabindra Sangeet Melodiocious Covers To Elevate Your Day
Lend your ears to these musical arists bringing Rabindra Sangeet live for us. Popular Bengali composition to percieve the essence of lyrics.
Rabindra Sangeet, a collaboration of Tagore's unreal lyricism and paired with some beautiful vocals makes you enter a state of bliss. Bengali songs carry so much essence of what the song tries to convey and the artist never fails to portray what exactly is supposed to be delivered. A set of extremely talented artists covering Rabindra Sangeet in their own ways. A beautiful tribute to Tagore to cherish the legacy he has left behind for generations to be grateful and proud of. A little recollection of Tagore's lyrics as we sit back, and watch the artists showcasing a beautiful synchronisation. Covers making a point, that music is for all regardless of any barriers.
Ami Tomaro Shonge Bedhechi – Raj Barman
The rhythm just delicately sways you away. A melody so pleasing to ears apart from that the accompanied by Raj Barman's vocal and Bengali lyrics just manage to make your day. The ambience created throughout the video beautifully complements the music. And the lyrics by Rabindra leave you enthralled with so much grace, Barman's cover only adds more to this already existent blissful song.
Tumi Robe Nirobe – Sanam
Tumi Robe Nirobe, originally sung by Indrani Sen. The entire vocal and instruments team have done a spectacular job doing justice to this song. The feeling of longing dripped out with every word uttered. A cheerful outlook for lasting hope and a magical delightful night. The videography with nature around and the artist completely invested in the song creates an environment to cherish and reflect. Sanam Puri gives an amazing performance while singing, and truly bringing the song to life.
Tribute To Tagore, Medley – TagoreCovers
A medley made to bless your ears, a collaborative performance by Avik Deb, Adrina Jamilee, Nashroh Naziat, Sharad Protiti and Shuvanon Rajit. The melding of all different voices into a wave, crystal clear and transparent as if the melody and lyrics completely engulf you. A collaboration bringing out the essence of the music as well as a perfect way to offer a tribute to Tagore. This tribute is a perfect honour and appreciation of the rooted art in our culture. The delivery of the song and lyrics generates an empathy where you feel the essence of the song and its lyricism.
Jagorane Jay Bibhabori – Debolinaa Nandy
Jagorane Jay Bibhabori covered by Debolinaa Nandy sways you away with her phenomenal voice. Her pronunciation and vocals will make you listen to this cover over and again. The beauty of Rabindra sangeet makes you realise the talent and authenticity so pure rooted in our culture. Debolinaa's voice paired up with varied instruments like flute, guitar and keyboard does a spectacular job backing her vocals as well as a perfect musical element complimenting Debolinaa's voice. The use of the flute just makes the entire performance, one you'll never forget. The sweetness of love flows easily when Bibhabori makes this song her own.