Levelling Fields: Looking Towards An Equal Future
On this Women's Day, we take a look at some incredible women who are juggling, defying socio-cultural barriers and saving the world.
The world we knew a while ago no longer exists. It is now a new normal that we follow, where we are careful about standing a little too close to others, where every day is another opportunity for us to catch a disease we have become all too familiar with. In light of the pandemic that has hit the world and our gradual recovery from it, our attempts to rebuild the world must take into consideration the opportunities that are being presented. We have to ask ourselves whether these opportunities are truly equal, whether we are including women into the decisions we make, the decisions that will go on to influence the future we live in. An equal future, where women are equally in positions of power and leadership, is what the focus should be on.
With this in mind, on this Women's Day, we take a look at some incredible women who have defied deep rooted socio-economic and cultural barriers to establish themselves in a field that are predominantly male oriented, who are not only pushing against societal and cultural barriers but also working tirelessly to make the world, we live in, a safer place.  
Dr. Priya Abraham, Director, National Institute of Virology, Pune
Director of the National Institute of Virology, Pune, the leading national institute that tests for the novel coronavirus, Dr. Priya Abraham is the mind behind leaps we have taken, as a country, in fighting against the disease. Dr. Abraham and her team were the ones who successfully isolated the SARS CoV-2 virus in India on March 9th, 2020, making the country the fifth one to do so. As she explains, for the layman, isolating a virus presents numerous opportunities in helping understand the nature of a virus, what drugs it is susceptible to and, most importantly, in the development of future vaccines. The coronavirus, as explained by her, is difficult to propagate in regular culture tests. Working tirelessly and testing over a thousand samples in the lab, Dr. Abraham and her team were responsible for providing the basis for others to further develop vaccines for the disease.
Dr. Renu Swarup, Secretary, Department of Biotechnology, Ministry of Science and Technology, Government of India
Dr. Renu Swarup, Secretary, Government of India, heading the Department of Biotechnology, Ministry of Science and Technology, is an important leading figure in the current atmosphere. Under her leadership, the Department of Biotechnology (DBT) is overseeing the development and commercialization of vaccines in the country. The importance of having a large basket of vaccines available is what Dr. Swarup puts emphasis on. Each indigenious vaccine for the coronavirus, due to being developed by different platforms, has its own set of challenges and benefits. Thus, it is important to have multiple vaccines, being developed and passed through clinical trials, in order to pick the best among the lot. Dr. Swarup, overseeing the efforts of the DBT, plays a crucial role in helping the country prepare and select a remedial course of action in fighting COVID-19.
Dr. Nivedita Gupta, Senior Scientist, Indian Council of Medical Research (ICMR)
Dr. Nivedita Gupta, a Senior Scientist at the Indian Council of Medical Research (ICMR), plays a, somewhat, dual role of science and management in the national effort to combat COVID-19. Initially, a small team of scientists at the ICMR came together to create a network of laboratories in the country for the easy identification and diagnosis of viral infections. Dr. Gupta was the one who led this project. At the outset, they set up 15 labs that came equipped with state of the art technology and specialities that dealt with molecular virology. After the COVID-19 outbreak in December of 2019, Dr. Gupta has, since January of 2020, gone on to set up over 500 laboratories and counting, in order to improve India's diagnostic capacity for the testing and treatment of COVID-19. She and her team are the ones who serve as the backbone for those who are trying to help develop an end to the disease.
Dr. Sumathy K., Head of Research and Development, Bharat Biotech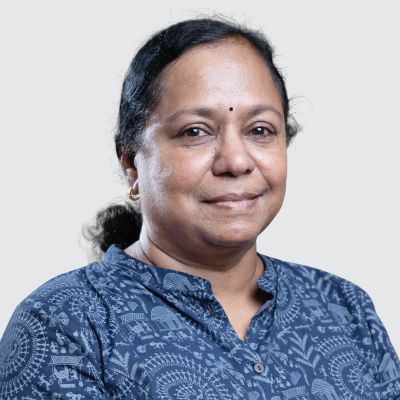 Head of Research and Development at Bharat Biotech, Dr. Sumathy K. is one of the core members of the team who developed Covaxin, India's first indigenously developed and mass produced vaccine. This, in fact, is not the first time that Dr. Sumathy K. has been responsible for the development of vaccines for dangerous viral infections. Indeed, she was the mind behind the development of the vaccines for Chikungunya and Zika for the company. It is, indeed, a tremendous achievement, in terms of the development of Covaxin, as this is the first time that an Indian based biotechnological company has been able to pace itself and kept up with the strides of the giant pharmaceutical companies of the West. Dr. Sumathy K.'s efforts, bolstered by the efforts of those researching and testing the coronavirus strain, is the first step into recovering the life we had before the pandemic began.
Dr. Nita Patel, Senior Director, Novavax
Dr. Nita Patel, currently a Senior Director for the vaccine development programme at Novavax, is another such individual who is heading the development of a vaccine for COVID-19. Under her guidance and leadership, the team, responsible for the development of a vaccine for coronavirus, at Novavax has been able to produce a vaccine, NVX-CoV2373, that is tested for 89.3 percent efficacy in its third phase of clinical trials. The vaccine could be cleared in the US as early as May. Dr. Patel's efforts in the development and the clinical trials of a vaccine, that could make our new normal a safer place to live, must be recognized. Rising from rural poverty in India, Dr. Patel has come a long way and is driven to make the world around her a little safer.
It is important to realize that the efforts of these women all feed into each other. Research and Diagnosis, Treatment and, finally, Management are all important aspects in the battle against COVID-19. Now more than ever, we must recognize the importance of levelling the field for women in all fields, in the hopes of building a world that is truly equal for us all. After all, without these women doing what they do, we would still be faced with the very real possibility of being stuck in the bleak reality that hit us two years ago.
Celebrating New Age Female Business Leaders: Happy International Women's Day!
This International Women's day, we bring you some new-age female entrepreneurs to share their success stories in the business world!
We say we live in a progressive world. Yet, hate crimes and gender-based discrimination exist even today. Did you know that less than 15 per cent of the world's countries have a female leader. The gender pay gap is only getting worse. With women of lower caste at even lower advantage. According to the World Economic Forum, at the current rate of change, gender parity won't be attained for another 99.5 years.
Whether it is healthcare, education or the workplace, a woman has to struggle through each phase of her life. And the societal pressure doesn't make it any better.
For years, women have been fighting to be seen as equal. Within this past year, we've made some undeniable strides. Countries with female leaders have received global praise for effectively handling the Covid-19 situation. Recently, Kamala Harris became the First female, Black-and-South-Asian Vice President of the United States of America. And while women are paying taxes for necessary menstrual products in most countries, Scotland became the first country to allow free access to menstrual products.
So yes, we've made progress, but there's still a long way to go. Every March 8th, the social, cultural and economic accomplishments of women is acknowledged. So today, let's celebrate the success stories of these incredibly talented entrepreneurs who have dedicated a large part of their lives trying to bring a change in society!
Midhula Devabhaktuni, Co-Founder and CMO, Mivi
Chief Marketing Officer and Co-Founder of Mivi, Midhula Devabhaktani launched the enterprise with her husband, Viswanadh, in 2015.
After graduating from Jawaharlal Nehru Technical University, Andhra Pradesh, Midhula moved to United States to pursue her Masters. She completed her MBA from the Florida State University and soon began her career as a software engineer working in Xerox. In 2014, she changed her jobs to work with the financial firm, Raymond James.
Creative in nature and a proactive problem solver, Midhula saw the potential for new product in the electronic segment of the Indian market. In 2015, she moved back to India with her husband and began her journey with Mivi.
Prioritizing quality and customer satisfaction over anything else, she states 'No one can promote your product better than a happy customer.' With her 'Made in India' products, she is on a journey to change the face of electronics in India in the coming years!
Karishma Mehta, Founder, Humans of Bombay
With a business and economics degree from the University of Nottingham, UK, Karishma Mehta had just returned back to Mumbai, unsure of her immediate future. You see, her childhood was driven by storytelling. She loved books and words, people and stories. Moreover, the Facebook photography page, 'Humans of New York' posed as a great inspiration.
Soon, she realized that this didn't exist in her own city. And that is how 'Humans of Bombay' came to life in 2014. She created a Facebook page and designed the logo on Microsoft Word. And soon 24-year-old, Karishma was out in the streets of Mumbai, ready to capture the stories of strangers and show them to the rest of the world.
Seven years later, with a community of 2.29 million people, Karishma's project has opened the eyes of many. The stories shared on Humans of Bombay come from people all over India; from various forefronts of society. From homosexuality, acid attack victims, transgender rights to inter-caste love stories and rape victims – Humans of Bombay features all stories.
Karishma, a successful woman entrepreneur, built a community of people who appreciate stripped-down humanity, and nothing else. There's no politics, no negativity, just people sharing stories in hopes of being heard.
Olivia Deka, Founder, She For Change
In 2017, Olivia Deka launched 'She For Change'. This non-profit organization supports young women with an entrepreneurial mindset by connecting them to mentors and changemakers. Moreover, they provide mentorship to young girls across various fields.
'She For Change' addresses issues like education, healthcare, gender-based violence, economic crisis, women empowerment and the environment. They provide various programs like the Leadership Lab, Girls Action Club, Entrepreneurship Development, etc.
They have created a community, a safe space where all these young women can thrive through networking. All this, in hopes of achieving gender equality somewhere in the near future.
Amishi Parasrampuria, Founder, Upcycler's Lab
While pursuing her Masters' degree in International Management, Amishi was introduced to many sustainable and eco-friendly organisations in the UK. When she returned to Mumbai, she started experimenting with upcycling during her free time. Soon, she realized that children are powerful agents of change. And this gave birth to Upcycler's Lab in 2018.
Upcycler's Lab uses play-based learning to develop an eco-conscious mindset among children. The aim is to build inherent eco-friendly habits from a young age through play-based learning.
Upcycler's Lab designs board games, puzzles, storybooks, flashcards, etc., catering to kids aged between two to nine years. These games cover various important topics related to the environment like waste segregation, forest, wildlife, pollution, etc.
Instead of scaring young children of the doomsday awaiting us, they make the games positive and fun. Amishi's enterprise is creating products the young minds of mother earth need.
Sahar Mansoor, Founder at Bare Necessities
In hopes of reversing the damage caused to the environment, Sahar Mansoor founded a zero-waste social enterprise in July 2016. This Bengaluru-based organization, Bare Necessities, follows the philosophy of consuming less and being optimistic.
It all started when Sahar Mansoor started realizing the extent of India's trash problem. And she didn't want to be part of the problem anymore. Since then, Sahar has been living a zero-waste lifestyle. But during her zero-waste lifestyle journey, she struggled to find home care products mirroring her values. So, she started Bare Necessities to help people like her – who wanted to produce less waste and consume mindfully.
Bare Necessities sells personal care and lifestyle products advocating the values of ethical consumption and sustainability. They rely on ethical sourcing from local vendors, emphasizing the employment of women. Bare Necessities products incorporate indigenous ingredients which are not harmful. The enterprise addresses the urgent need for sustainability to reduce the damage caused.
Aditi Gupta, Co-Founder, Menstrupedia
Aditi Gupta's enterprise is all about healthy discussions on menstruation. Menstrupedia comics are meant to help young girls learn about their periods in a comfortable manner.
In a country like India, menstruation still remains a subject of major taboo. Rural as well as many urban families practice unhygienic methods to deal with periods. And this s because periods are considered to be shameful and families don't want to have conversations on this topic.
Menstrupedia is a complete guide on periods. The comic covers all aspects of menstruation. From changes during puberty to explaining what exactly menstruation is. How to track your cycles and PMS, and finally hygiene during the time.
Aditi Gupta was on the Forbes India list of 30 under 30 in 2014. Her work has truly impacted the lives of many young women in the best way possible.